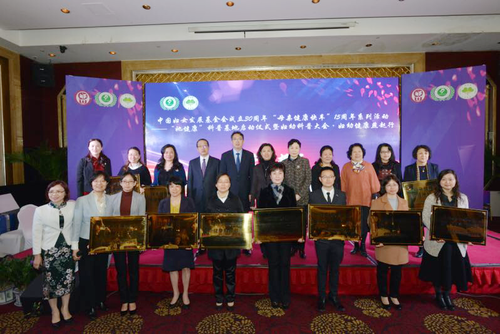 Health Express for Mothers Project Celebrates 15th Anniv. [CWDF]
Organizers launched a series of activities to celebrate the 15th anniversary of the Health Express for Mothers charity project on March 24.
Health Express for Mothers provides medical treatment for disadvantaged women and children in poverty-stricken areas across the country through vehicles fitted out with medical equipment.
The ceremony took place in Shijiazhuang, North China's Hebei Province, at the launch of the local Women's Health Popular Science Demonstration Base.
The activities, which also included a conference and a tour, brought together representatives of 104 public hospitals and maternal and child healthcare institutions in 23 provinces and municipalities throughout the country.
The event called on outstanding medical workers to use their knowledge to prevent disease, enhance awareness of preventive healthcare, and promote maternal and child health in all regions.
President Xi Jinping put forward a directive on implementing the Healthy China strategy in the report of the 19th National Congress of the Communist Party of China (CPC), stressing that the healthcare for women and children should be strengthened.
This year is the 30th anniversary of the establishment of the China Women's Development Foundation (CWDF), which co-sponsors Health Express for Mothers. CWDF also runs other projects such as Aid for Poverty-stricken Mothers Suffering Cancers and , and Her Health.
Further anniversary activities will include the, Health Express for Mothers Project Assessment (2013-2018) and the Two Cancer Screening Vans.
The activity was co-sponsored by the Department of Maternal and Child Health of the Hebei Provincial Health and Family Planning Commission, the Chinese Women's and Children's Health Association's Gynecological Endocrinology Committee, and the Xinglin Gynecological Endocrinology Research Institute.
At the event, Professor Sun Aijun, Chairman of the Committee of Women's and Children's Health Association of Gynecology and Endocrinology, awarded honorary certificates to medical workers who had made outstanding contributions, and summarized the work of maternity and pediatrics completed in the past year.
The conference was divided into two major themes, namely "Doctor-based Popularization of Science" and "Public Popularization of Science".
The first half gathered well-known medical experts and outstanding science workers to share their experience in the diagnosis and treatment of maternal and child health with medical volunteers.
The second half, displayed the rich content of medical sciences in the form of vivid popular science dramas, popular science debates, and popular science lectures using easy to understand language and vivid images.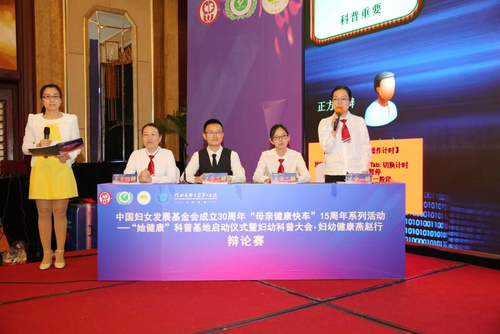 Participants have a debate about science popularization. [CWDF]
Medical workers perform a drama. [CWDF]