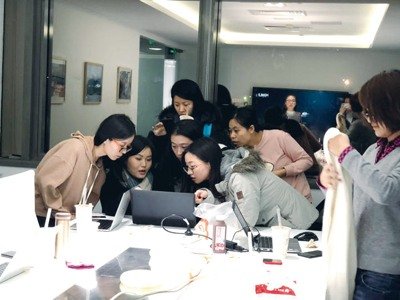 Women participate in The "Teach Girls Coding" program [China Women's News]
The "Teach Girls Coding" program has promoted gender equality in the workplace in China.
Launched in 2017 by Chen Bin, CEO of an Internet education company in Beijing, the program aims to help women aged over 14 gain better access to the IT industry. Altogether, it offers about 40 relevant courses.
Traditionally, programming is a male-dominated industry. According to a latest report, men account for 92.4 percent of programmers in China, while women account for only 7.6 percent.
"An outdated concept that women should avoid pursuing a career in science and engineering has caused this phenomenon," Chen said.
"Women can also be competent in the field with good abilities and a non-discriminatory working atmosphere," he added.
A woman who worked at a travel agency in Chengdu, capital of southwest China's Sichuan Province, changed her career plans after studying programming.
"I never thought I would be engaged in the IT industry someday because I used to think programming was too difficult for me," she said.
"However, I changed my mind when I learned from Sina Weibo (China's Twitter-like social media) that Chen would teach us in a simple way.
"I started to study the elementary courses and develop my interest in programming," she continued.
"Now, I have made becoming a python engineer my dream."
According to Chen, 600 students of "Teach Girls Coding" have participated in building a website to provide sex education for children.
"Within one month, they succeeded in collecting nearly all the high-quality online sex education resources we needed," he said. "As of December 22, 2017, the website opened to the public."
"It may very well have provided the first online gender equality course in China," Chen announced on his Weibo account.
"Gender discrimination still exists, so I hope I can do something to eliminate it."
(Source: China Women's News/Translated and edited by Women of China)