The start of the 'Say Goodbye to Vitiligo' 3rd anniversary conference [China Children and Teenagers' Fund]
The China Children and Teenagers' Fund (CCTF) held a conference to mark the third anniversary of its 'Say Goodbye to Vitiligo' program in Beijing on April 12, 2018.
The organizers intended to summarize project experiences, review achievements and cure more children with vitiligo.
Several attendees at the conference expressed their opinions.
"In order to better take care of and help children with vitiligo, the 'Say Goodbye to Vitiligo' project will continue to step up, popularize disease knowledge and promote grassroots welfare activities to help them enjoy a bright future," said Xu Xu, deputy secretary-general of the CCTF.
"During the past three years, our hospital has undertaken treatments of the program-supported patients. The hospital has also actively promoted the project in villages in Hebei Province and popularize related knowledge in order to help and cure more patients," said Gao Yumei, head of the Beijing Guodan Vitiligo Hospital.
At the conference, some enterprises and individuals contributed 1 million yuan for children with vitiligo. Xu issued certificates to actress Gong Beibi and TV host Guo Wei, the program's promotional ambassadors, and representatives of donors.
Other experts took part in the conference and delivered speeches, including Shi Ruiping, a Ph.D. from of the Institute of Psychology of the Chinese Academy of Sciences (CAS), vitiligo expert Wang Jiahuai and expert of children's education Ding Fan.
According to WHO statistics, vitiligo is a dermatological disease with an incidence of 1 to 4 percent, with most children affected aging from 3 to 12.
Due to a lack of money, many children with vitiligo can't receive treatment in time, so they continue to grow with the condition. The 'Say Goodbye to Vitiligo' project has helped treat over 600 patients from over 20 provinces since 2015.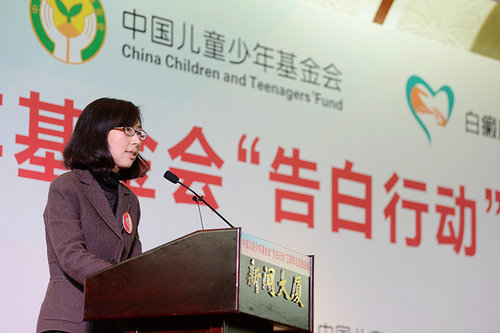 Xu Xu, deputy secretary-general of the CCTF, delivers a speech. [China Children and Teenagers' Fund]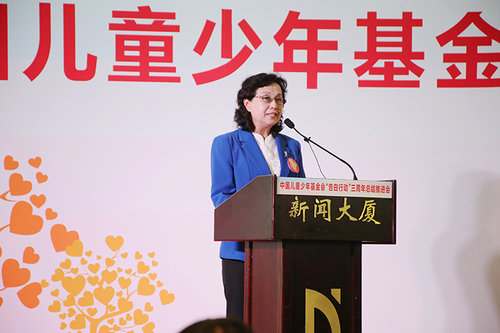 Gao Yumei, head of the Beijing Guodan Vitiligo Hospital, delivers a speech. [China Children and Teenagers' Fund]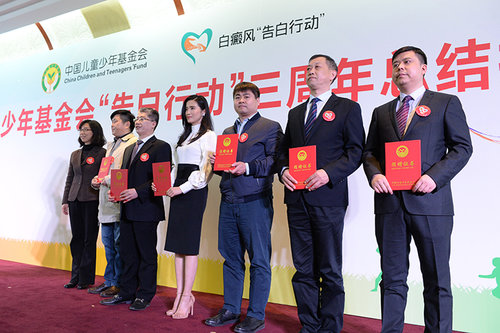 Xu issues certificates for love ambassadors and charity enterprises. [China Children and Teenagers' Fund]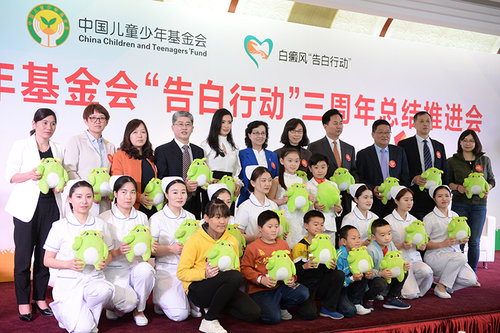 Attendees at the conference [China Children and Teenagers' Fund]
(Source: China Children and Teenagers' Fund/Translated and edited by Women of China)