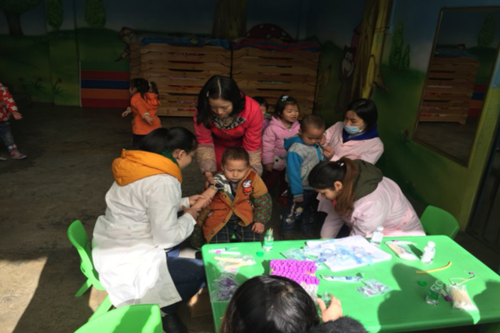 Kindergarteners receive genetic testing in Bama Yao autonomous county. [Photo by Cen Yuezhu/provided to chinadaily.com.cn]
The Bama thalassemia genetic screening databank is now complete and available for public use thanks to BGI-Shenzhen, the world's largest DNA-sequencing research center, according to a May 15 statement by the publicity department of Bama Yao autonomous county.
Thalassemia, also known as Mediterranean anemia, is one of the world's most widespread genetic disorders, with about 1.67 percent of the global population carrying the gene.
Babies born with severe thalassemia die before 10 years of age without regular blood transfusions.
Bama Yao autonomous county has implemented the thalassemia screening program in an attempt to relieve poverty brought about by the disorder.
In order to improve the quality of life and health of newborns, a screening program is used to detect thalassemia genes.
Students and faculty members in all kindergartens, primary schools, and middle schools in the county have received genetic detection services free of charge since January 2018.
Among a collection of 57,229 samples, 14,355 were carriers of thalassemia, accounting for 25 percent of the total number.
On May 8, Guangxi Zhuang autonomous region initiated an infant care program for thalassemia carriers.
The Bama thalassemia genetic screening databank is currently the largest county-level thalassemia genetic screening database in the world.
All clinical data collected will be stored in the China National GeneBank in Shenzhen, in accordance with national policy regarding the management of genetic resources.
The database provides advice on the prevention and control of thalassemia. Relevant government departments will be able to accurately monitor the situation in all villages and towns as well as the demographics and distribution of thalassemia patients.
In addition, the databank offers guidance on the treatment of thalassemia. Medical institutions can provide assistance to couples with thalassemia looking to have children, minimizing the risk of giving birth to a thalassemia carrier.
The Bama government will provide HLA matching services to thalassemia patients, in partnership with BGI-Shenzhen. It will also contact respected medical institutions treating thalassemia and provide treatment for patients.
In the coming months, Bama will work to build an inquiry databank which will allow residents to view the results of their thalassemia genetic testing.
In April, 2018, Wang Weizhong, Party chief of the Shenzhen Special Economic Zone, Chen Rugui, mayor of Shenzhen, and Sun Dawei, regional deputy Party secretary of Guangxi Zhuang autonomous region, inspected poverty-alleviation projects in Bama.
They were impressed by Bama's thalassemia prevention efforts. "The thalassemia genetic screening project is a meaningful endeavor. Shenzhen will give its full support to the health-improvement plans in Bama and Hechi city," said Wang Weizhong.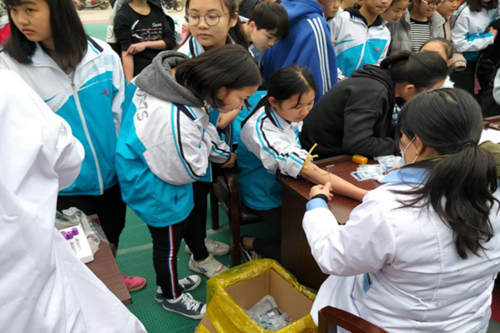 Students receive genetic testing in Bama Yao autonomous county. [Photo by Cen Yuezhu/provided to chinadaily.com.cn]
Doctors hard at work, collecting the samples from school students. [Photo by Cen Yuezhu/ provided to chinadaily.com.cn]
(Source: China Daily)