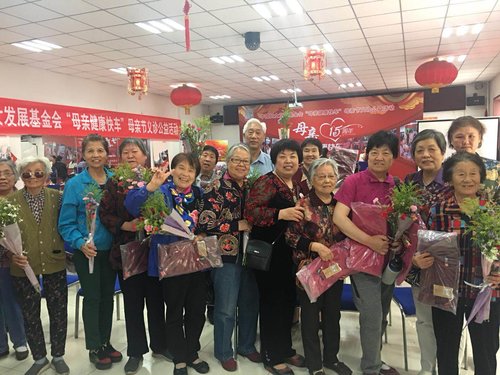 The elderly people of the Oil Pump Factory Community pose for a photo at the activity site. [Women of China / Fan Wenjun]
Applause and loud cheering could be heard as the elderly audiences enjoyed the artistic performances of intangible cultural heritage, like the distinctive Beijing Drum and the traditional Kuaiban show (story telling to the rhythm of bamboo clappers), with great interest at the Oil Pump Factory Community in Fengtai District in Beijing, capital of China, on May 11.
The event was part of the Mother's Day activity under the Health Express for Mothers Project, which was co-organized by China Women's Development Foundation (CWDF) and Ruipuhua Elderly Care Center, and included a gala and free medical consultation.
More than 100 elderly people in the community came to the venue early since they heard there would be medical experts conducting an on-site checkup.
A representative from CWDF said that this activity has received strong support from the Chinese Medical Women's Association (CMWA) which sent experts in cardiovascular, endocrinology, and pelvic floor health to the event.
It was hoped that the activity would help the elderly residents clearly understand their health problems. At the end of the activity, a Mother's Day gift package and carnation flower bouquet were presented to the elderly people in the community.
Since August 2016, CWDF has carried out basic medical services such as medical service needs assessments, regular medical visits, drug deliveries, and dietary guidance.
In view of the health management of 300 empty-nesters, widows and elderly people who have lost their only children in Fengtai, the Health Express for Mothers Project has made 540 rounds of visits to carry out activities such as checkups in communities, series discussions about caring for the elderly, and other activities, which involved 10,800 elderly people.
Through these activities, they sent health, love and warmth to the old people in such communities.
One of the elderly participants said, "Thanks to the activity, we can consult medical experts near home instead of going to the hospital. It is really convenient."
It has been 15 years since the Health Express for Mothers Project was launched in 2003. The project has donated 2,624 medical service vehicles and on-board medical equipment to more than 1,900 medical units in 30 provinces, autonomous regions and municipalities across the country.
A total of 390 million yuan has been donated, and more than 66 million people have benefited.
The project has played a unique role in reducing the incidence of gynecological diseases, maternal and infant mortality, and improving the quality of life of poor women.
It won the "China Charity Award" in 2008, which is the Chinese government's top charity award.
Volunteers present a Mother's Day gift pack and carnation flower bouquet to the elderly participants. [Women of China / Fan Wenjun]
Medical experts conduct an on-site checkup for elderly people. [Women of China / Fan Wenjun]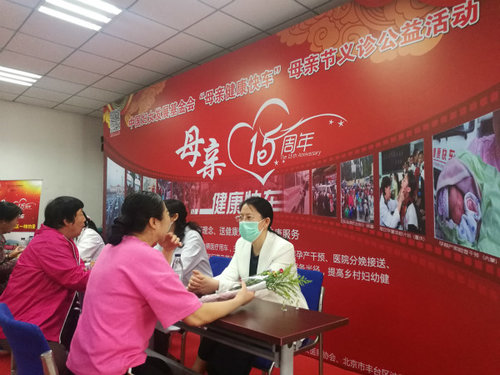 Medical experts conduct an on-site checkup for elderly people. [Women of China / Fan Wenjun]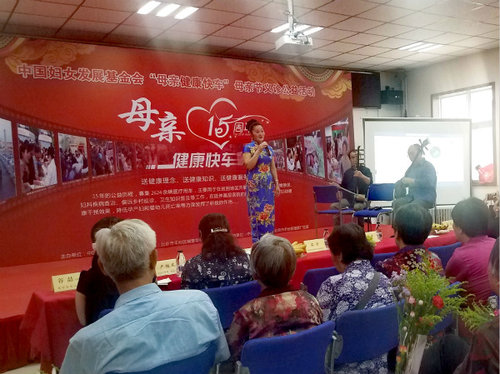 Elderly people watch the distinctive Beijing Drum show. [Women of China / Fan Wenjun]