Zheng Wei announces the results of research at the launch ceremony. [Women of China/Fan Wenjun]
China Children and Teenagers Fund (CCTF) and Tencent Foundation launched the New Growing Plan (NGP) in Beijing on May 23, aiming to improve the cultural and quality-oriented education of youngsters from poverty-stricken areas.
The plan was established in response to the 18th National Congress of the Communist Party of China and the implementation of education-oriented poverty alleviation initiative.
It will focus in particular on the development of education, to vigorously promote educational equity, and narrow regional disparities, said a spokesperson.
It will attach importance to the nourishment of children's humanity in the new era, and the development of their wisdom and abilities through targeted and inquiry-based learning activities.
The plan will promote the improvement of the educational environment in ethnic, poverty-stricken, and underdeveloped areas in the central and western regions of China, to help children and teenagers foster the abilities suited for adapting to future society, and prevent poverty from being passed between generations.
To ensure that the project's feasibility, Beijing Normal University (BNU) carried out research from May 2017 to April 2018 on the current status of China's traditional culture education in 29 provinces, autonomous regions and municipalities including northeast China's Heilongjiang Province, north China's Inner
Mongolia Autonomous Region, Hebei Province and southwest China's Sichuan Province through questionnaires and interviews.
The results of the study were announced at the event by associate professor Zheng Wei of the Department of Education of BNU, showing existing problems and deficiencies in traditional Chinese culture education, and suggestions, such as strengthening the top-level curriculum arrangement, and the development of the teaching staff, to provide a realistic basis and theoretical support for the implementation of NGP.
Zhu Xisheng, secretary-general of the CCTF, gave a brief introduction about the project in terms of its original intention, theoretical basis, project features, and project management.
Zhu explained the project's intention to help teenagers and children in impoverished areas establish greater aspirations and shoulder the responsibility of building socialism with Chinese characteristics.
Guo Kaitian, chairman of Tencent Foundation, expressed his intention of promoting cultural heritage undertaking and poverty alleviation via the help of technology.
Zhao Donghua, former Vice-President and Member of the Secretariat of the ACWF and Vice-President of CCTF, attended the event and issued certificates for the first batch of the partner schools of NGP.
During the ceremony, participating leaders presented book packages to student representatives from Limin Primary School, a school for children of migrant workers, in the Haidian District in Beijing.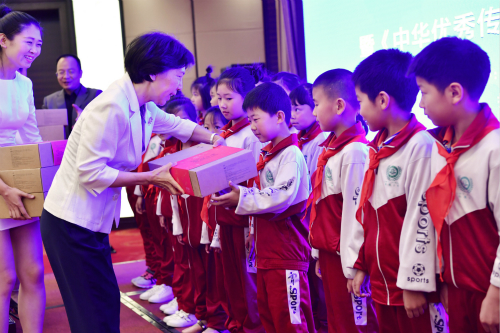 CCTF Vice-President Zhao Donghua presents books to student representatives from Limin Primary School. [Women of China/Fan Wenjun]
Representatives from participating schools receive certificates at the event. [Women of China/Fan Wenjun]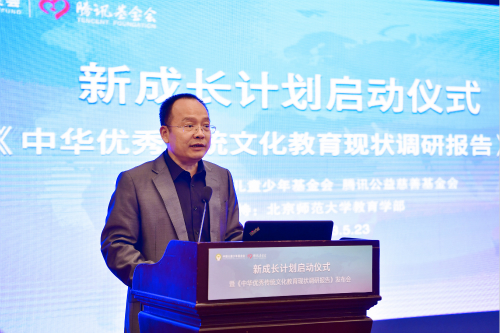 Zhu Xisheng gives a speech at the event. [Women of China/Fan Wenjun]
Leaders jointly launch the project. [Women of China/Fan Wenjun]