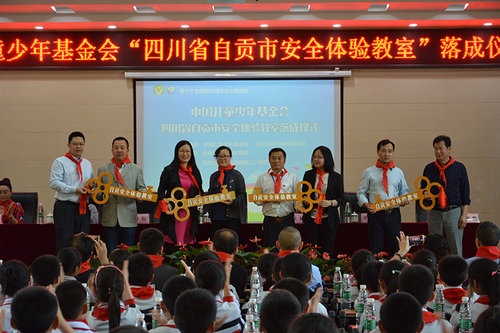 Representatives from CCTF present keys to the first four safety experience classrooms to officials in Zigong County, southwest China's Sichuan Province. [cctf.org.cn]
Four safety experience classrooms were piloted in Zigong city, southwest China's Sichuan Province on April 26, to mark the country's 10th Disaster Prevention and Reduction Day and help develop children's safety awareness.
The classrooms were provided by the Child Safety Education Project of China Children and Teenagers' Fund (CCTF).
This year is the 10th anniversary of Wenchuan earthquake. After the disaster, children's safety education has developed rapidly over the past decade.
Closely working with the Education Department of Zigong, the classroom will use innovative educational models to make the topic of what to do in an emergency more interesting and efficient, thus helping locals to avoid harm in the future.
During the activity, participants and students took part in a safety education class at the site. The content included five parts: natural disaster, traffic security, fire safety, self-protection and first-aid.
"I learned much useful safety knowledge from the class. I will impart it to my parents and I hope to learn at the classroom frequently," said one pupil.
The CCTF conducted numerous investigations on the status of safety education in primary and secondary schools across the country after the earthquake in 2008.
In 2010, the CCTF launched the Children Safety Education Project in response to the need to strengthen disaster prevention education and improve emergency response mechanisms.
In the past 10 years since it was implemented, the project has raised a total of 100 million yuan in donations, built over 330 Safety Experience Classrooms and four Safety Experience Centers in 67 cities across 29 regions in China.
Organizers from CCTF have also held over 200 safety education training sessions and over 100 safety education tour activities, which have benefited over 10 million children, teachers and parents, say officials.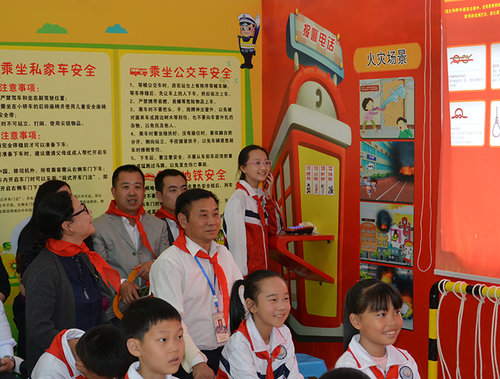 Students use equipment in the safety experience classrooms to carry out simulated emergency alarm drills. [cctf.org.cn]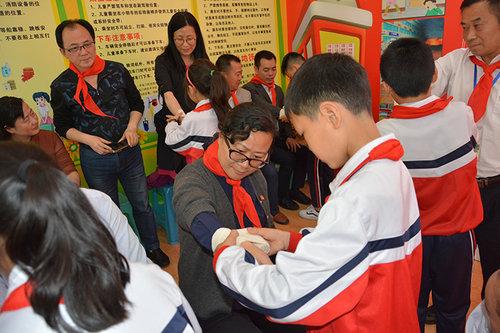 Students learn how to apply bandages to wounds in case of an emergency. [cctf.org.cn]
(Source: cctf.org.cn/Translated and edited by Women of China)