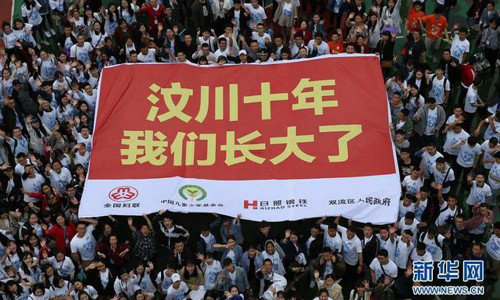 A group of children return to Shuangliu Ankang Home in Chengdu to participate in the event. [China Children and Teenagers' Fund]
Organizers held a commemorative on May 9 in the Shuangliu District of Chengdu, southwest China's Sichuan Province, to mark the 10th anniversary of the Wenchuan earthquake and the launch of the Ankang Home orphanage.
The event was hosted by China Children and Teenagers' Fund (CCTF), Sichuan Women's Federation and Rizhao Iron and Steel Group, and co-sponsored by Chengdu Women's Federation and the People's Government of Shuangliu District under the guidance of the All-China Women's Federation (ACWF).
Deng Li, Vice-President and Member of the Secretariat of the ACWF, Deng Xiaogang, Deputy Secretary of the Sichuan Provincial Committee of the CPC. and Wang Lifei, Vice President of Rizhao Iron and Steel Group attended the event and delivered speeches.
Many children lost their parents and relatives in the Wenchuan earthquake which struck the area on May 12, 2008.
After the earthquake, ACWF cooperated with CCTF and Rizhao Iron and Steel Group to initiate Ankang Home, a safe and healthy shelter project, to rescue orphaned children affected by the disaster.
Staff members of the Ankang Home project initially visited quake-hit villages, then transferred and provided shelter for 712 orphaned children. Some of the children found their parents later and the Ankang Home finally took in 672 young survivors.
So far, 282 students from Ankang Home have been admitted to university and 342 students have worked in or joined the military. Only 48 young children continue to live and study at Ankang Home.
The Ankang Home project has involved two stages in Rizhao and Shuangliu respectively, benefiting people of six ethnic groups from 10 cities, 31 counties and 182 villages.
Over the past decade, Ankang Home has united social organizations to do their best to ensure all orphans develop safely and healthily, said Deng Li.
She also encouraged every child to study hard and learn more skills so as to achieve their dreams in the new era.
At the event, CCTF launched a project aiming to teach children to prevent and reduce the harm of natural disasters effectively to guarantee their safety.
Besides, CCTF carried out the Children Safety Project to popularize safety knowledge among children and help them grasp emergency rescue skills.
Deng Li, Vice-President and Member of the Secretariat of the ACWF, visits Shuangliu Ankang Home. [China Children and Teenagers' Fund]
Deng delivers a speech at the event. [China Children and Teenagers' Fund]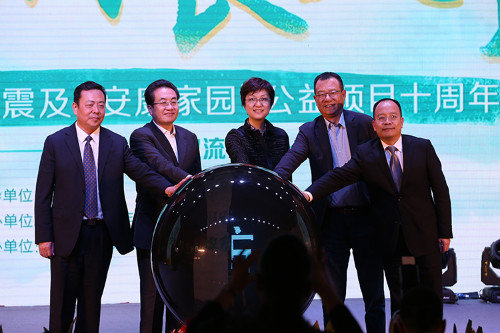 Attendees at the event launch a public welfare project aiming to teach children to prevent and reduce natural disasters effectively. [China Children and Teenagers' Fund]
(Source: China Women's News/Translated and edited by Women of China)