A teacher plays a "look into the mirror" game with participants. [China Children and Teenagers' Fund]
A monthly psychological health themed activity for rural students was held on April 27 in Beijing Jiuhua Spa & Resort aiming to improve rural teenagers' interpersonal skills and build their confidence to face society positively.
The activity was initiated by China Children and Teenagers' Fund (CCTF) and Country Garden and hosted by the Beautiful Soul Classroom Project.
Music can dispel anxiety, depression and melancholy and enhance people's spirits.
The event invited professional music therapy teachers including those of Shandong University of Arts and Chen Junyi, secretary general of the Music Therapy Department of Mental Health Committee of the China Association of Social Workers, to conduct psychological adjustments and professional counseling for 37 primary school students through relaxed and happy music therapy.
The senior volunteers at Jiuhua Senior Citizens' Apartment took part in the event, singing together with the children and telling the stories behind the songs.
The activities were divided into three sessions: opening warm-up, group discussion and live demonstration. All participants found the right way to solve their psychological problems under the guidance of professional psychology teachers and had a great time together.
"The activity is meaningful and the music therapy helps children open their hearts. I feel happier to see these vigorous kids laughing loudly," said a senior volunteer.
The Beautiful Soul Classroom Project was initiated by the CCTF and Country Garden in 2017. Since its inception, it has provided psychological screening, assessment, counseling, early warning and assessment services for left-behind and migrant children in rural primary and secondary schools. It hopes to provide family-like care for children and help them grow up in a healthy way.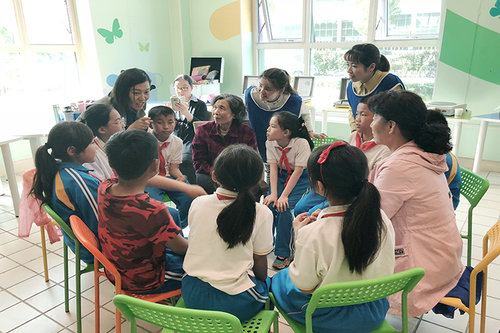 Each group shares their own music stories. [China Children and Teenagers' Fund]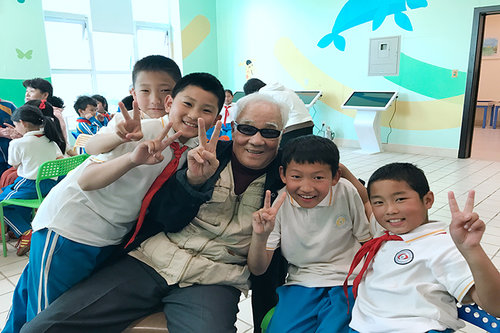 Children and the senior volunteers play happily. [China Children and Teenagers' Fund]
A group photo of all participants [China Children and Teenagers' Fund]
(Source: China Children and Teenagers' Fund/Translated and edited by Women of China)