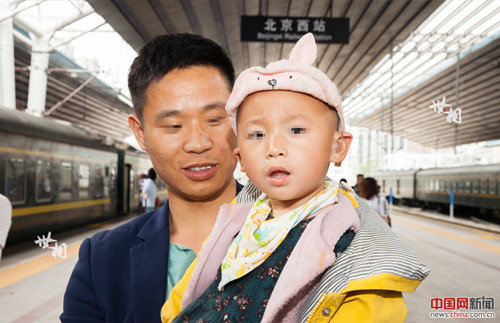 The little girl and her father pose for a photo when they reach Beijing for the free surgery. [china.com.cn]
Thanks to financial assistance from the China Children and Teenagers' Fund (CCTF), a rural woman from northwest China's Gansu Province eventually helped her physically disabled daughter acquire her long-lost ability to hear when a Beijing-based hospital offered them surgery last month.
Xi Fang, 28, comes from an impoverished family in the county of Xihe. She was determined to bring her future baby up when a prenatal medical screening said that she was likely to contract an unknown birth defect.
The baby girl was found to have underdeveloped sight and hearing when Xi took her to a hospital in the city of Xi'an, neighboring Shaanxi Province, about a month after her birth.
After a while, the little girl's hearing impairments became more and more apparent. She couldn't speak like other normal children when she was 16 months old.
The girl was declared to have contracted a severe hearing impairment and was thus labeled as a physically disabled child in 2016. However, it was too costly for her poverty-stricken family to pay for a cochlear implant operation, even though it would be the girl's last chance to hear sounds.
Since then, Xi gave up work and stayed at home to take care of her daughter.
Nevertheless, Xi has tried her utmost to grasp any opportunities to cure her daughter's hearing disability. She has visited the local federation of disabled persons many times to fill in the application forms for financial assistance over the past few years.
Luck finally blessed Xi and her daughter this January when the CCTF organized a number of professionals from Beijing Children's Hospital to carry out free medical screenings for local children with visual and hearing impairments.
Moreover, the CCTF announced that it would finance the ensuing surgeries and other expenditures of all involved families on their route from Xihe to Beijing because the All-China Women's Federation (ACWF) had already inked a partnership of assistance with the region amid the nationwide poverty relief campaign.
Along with other beneficiary families, Xi and her husband jointly escorted their daughter to Beijing on May 17.
Ten days later, the little girl underwent a successful surgery and finally heard sound for the first time in her life.
"Prior to the surgery, I only hoped that my child could take care of herself when she grew up. Now, I will work hard to help her make adjustments for her new life, learn to speak, find a job, and take care of herself in the future," Xi said during an interview.
According to the CCTF, it will hold similar medical screenings for children with visual and hearing disabilities in Zhangxian, another impoverished county in Gansu, and release financial assistance to target beneficiaries in the future.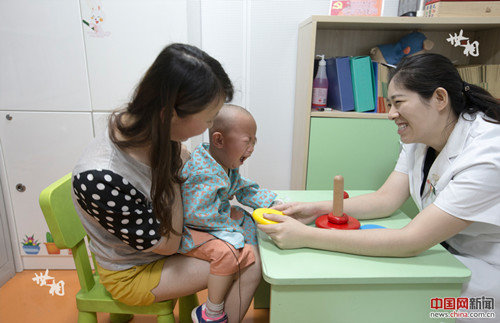 A doctor tries to calm down the little girl after her surgery. [china.com.cn]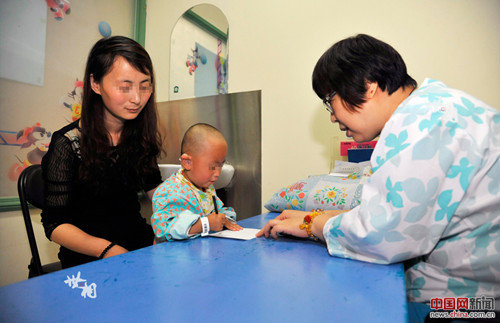 A doctor plays a game with the little girl in a move to calm her down. [china.com.cn]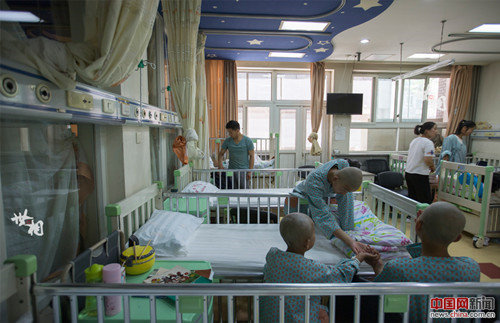 A photo of their bedroom in Beijing Children's Hospital affiliated to Capital University of Medical Sciences [china.com.cn]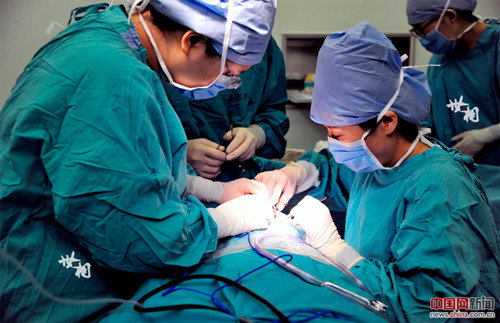 Several surgeons carry out an operation for the little girl. [china.com.cn]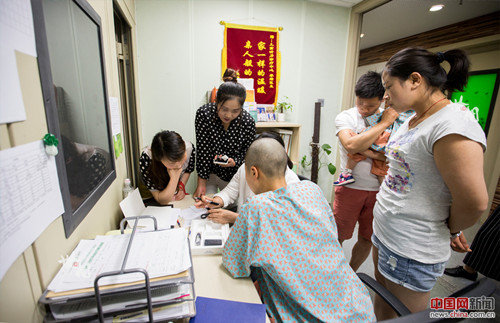 Under the guidance of a doctor, several parents learn how to manage their children's hearing aids. [china.com.cn]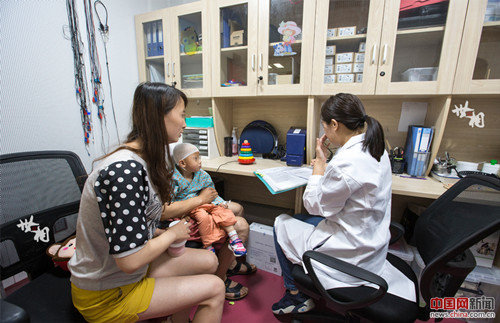 Xi Fang (L2) talks with a doctor about her child's illness. [china.com.cn]
The couple consults a doctor about their daughter's illness. [china.com.cn]
(Source: china.com.cn/Translated and edited by Women of China)