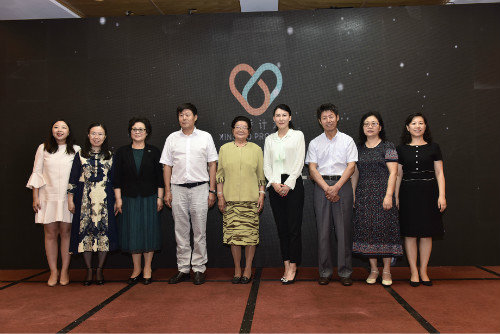 The forum on Chinese women and children's mental health is held in Beijing. [Women of China/Zhang Jiamin]
The Xinqiao Program and the forum on Chinese women and children's mental health kicked off on July 2 in Beijing, aiming to highlight the importance of mental health and provide further health education to the public.
The event was hosted by China Women's Development Foundation (CWDF) and Bridging Hope Charity Foundation Beijing.
As the rapid change of society and fast development of economy, people nowadays are living in accelerated pace. There are also increasing competitive pressures among them.
In addition, the anxiety of family members brought about their relatives' status as migrant workers can cause problems of individuals' psychology and behaviors and social problems.
Mental health matters to social harmony and long-term stability, so the Party and the State attach great importance to the mental health of the masses.
"We will improve the system of public psychological services and cultivate self-esteem, self-confidence, rationality, composure and optimism among our people," President Xi Jinping said at the 19th National Congress of the Communist Party of China.
Furthermore, the national programs for women's and child development (2011-2020), which were implemented by the State Council, also put forward specific goals and measures for women and children's mental health education and services.
The Xinqiao Program is a five-year plan including two major sections.
On the one hand, organizers plan to establish grassroots mental health bases primarily in communities and schools so as to provide the public with various scientific and professional health services.
On the other hand, organizers will provide professional psychological support services to both communities and schools.
In terms of communities, staff members of the program will set up psychological counseling rooms to offer multiple activities such as one-on-one counseling services, mutual assistance teams and mental health-themed salons to help residents release negative moods and alleviate psychological problems.
For schools, organizers will not only develop a skeleton psychological teachers' team, but also develop a series of psychological courses adapted to children of all ages. Schools can also offer courses regularly using different artistic forms like movies and paintings to rebuild students' confidence.
The program plans to establish eight psychological counseling rooms in communities and carry out psychological courses in 12 schools in Beijing, Heilongjiang, Sichuan, Shaanxi and other places this year.
In addition, the program will cooperate with colleges and mental health institutions at home and abroad to carry out fundamental research about mental health, develop psychological decompression tools and further improve the theoretical level of Chinese psychology research and mental health education.
Gu Xiulian, vice-chairperson of the Standing Committee of the 10th National People's Congress, former president of the All-China Women's Federation (ACWF) and director of the China National Committee for the Wellbeing of the Youth, delivered a speech at the launch ceremony.
Gu said that the Xinqiao Program can not only effectively promote mental health education and solve the psychological problems of Chinese women and children, but is also a good attempt to explore and innovate the construction of a complete socio-psychological health service system.
It is better for the program to form its own brand and standards in the implementation and for it to adapt to different areas with different economic situations, she added.
As the project sponsor, Tian Tian, founder and honorary chairman of Bridging Hope Charity Foundation Beijing, introduced that Bridging Hope is a foundation which is committed to providing mental health education and services to the public, using artistic methods.
Tian said she was proud of working with CWDF to carry out the program and she hoped their cooperation would help more women and children relieve their psychological problems and make them enjoy lives in their families and society.
As part of the event, a forum on the theme "the development of Chinese women and children's mental health" was held.
Participants at the forum included policy makers concerning Chinese women and children, charity organizations' representatives and psychologists from home and abroad.
They analyzed the domestic status of the development of public welfare organizations and discussed some typical overseas cases and theories concerning women and children's mental health in order to give their suggestions for the program's implementation.
Other participants at the event also included Zhen Yan, former vice-president and member of the Secretariat of ACWF and vice-chairman of CWDF; Fu Xiaolan, head of the Institute of Psychology at the Chinese Academy of Sciences (CAS); Song Wenzhen, deputy director of the Office of the Working Committee on Children and Women under the State Council; Liu Jing, vice-president of the China Association of Social Workers; Zhang Jianmin, deputy secretary-general of the CWDF; and nearly 200 other representatives from UNICEF and UN Women and other international organizations and governmental departments.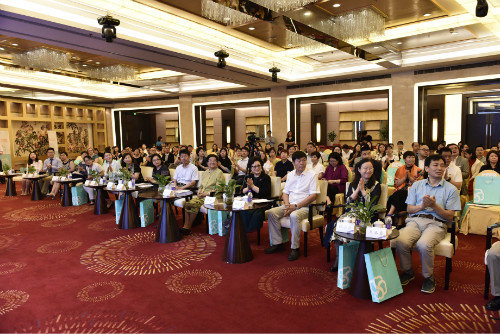 Attendees at the event [Women of China/Zhang Jiamin]
Gu Xiulian, vice-chairperson of the Standing Committee of the 10th National People's Congress, former president of the All-China Women's Federation (ACWF) and director of the China National Committee for the Wellbeing of the Youth, delivers a speech. [Women of China/Zhang Jiamin]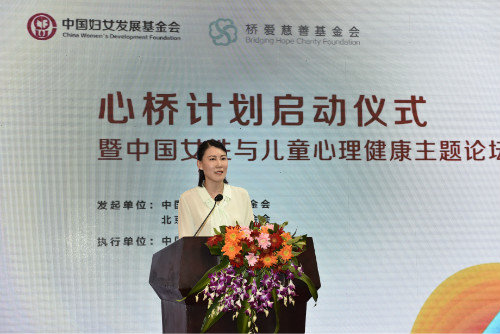 Tian Tian, founder and honorary chairman of Bridging Hope Charity Foundation Beijing, gives her speech. [Women of China/Zhang Jiamin]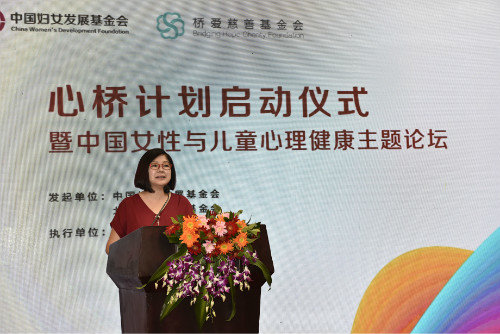 Shama Aguo, hostess of the CCTV Society and Law Channel, presides over the event. [Women of China/Zhang Jiamin]
Gu presents Tian a donation certificate. [Women of China/Zhang Jiamin]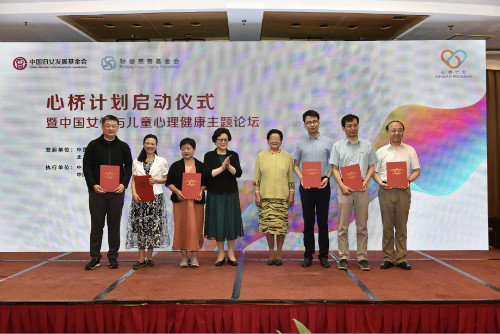 Gu gives letters of appointment to experts of the Xinqiao Program. [Women of China/Zhang Jiamin]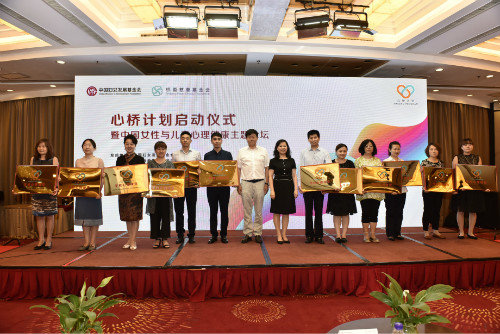 Representatives receive plaques to grassroots mental health bases. [Women of China/Zhang Jiamin]
Guests share ideas at the forum [Women of China/Zhang Jiamin]