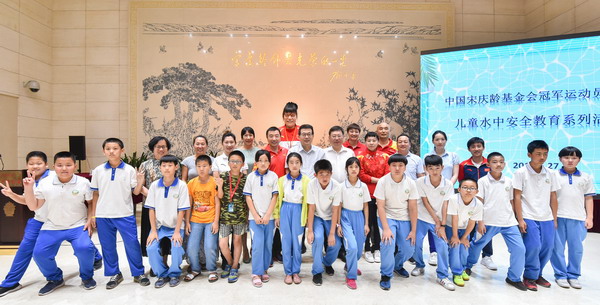 Teachers and students meet former Olympic champions at the event. [Chinatoday.com]
Organizers from China Soong Ching Ling Foundation (CSCLF) Champion Athletes Fund launched a series of activities to promote child water safety education in Beijing on June 27.
Vice-president of CSCLF Jing Dunquan, Director of CSCLF Fund Department Tang Jiuhong, and several sports personalities attended the event, together with teachers and students from schools in poverty-stricken areas in north China's Hebei Province and Huangzhuang Migrant Workers Children's School in the capital.
Chinese President Xi Jinping once pointed out that the healthy growth and safety of young people has always been the focus of his concern and commitment.
In support of this idea, CSCLF has been advocating the development of youth's all-round competence for several years.
In 2015, CSCLF jointly established the special fund with over 100 champion athletes to further the promotion of sports in schools and aspire young people through the positive energy of role-models.
According to the Global Report on Drowning from the World Health Organization (WHO), drowning is the leading cause of injury and death among Chinese children up to the age of 14.
Qian Hong, a former swimmer with rich experience in water safety education, has served since 2005 as a special ambassador of the WHO to help reduce related accidents.
Qian shared her experience recently by compiling a special safety handbook which she has donated to the foundation.
At the event, elite athletes such as shooting champion Yang Ling, basketball player Zheng Haixia, swimming champion Luo Xuejuan, gymnastics talent Teng Haibin, and long-distance running champion Wang Junxia also presented books of inspirational stories to teachers and students.
Wang Jia, a writer with motor neurone disease, also conveyed his warmth and positive energy through his book Unstoppable, which encourages young people to cherish life and work hard to achieve greater accomplishments.
(Source: Chinatoday.com/Translated and edited by Women of China)