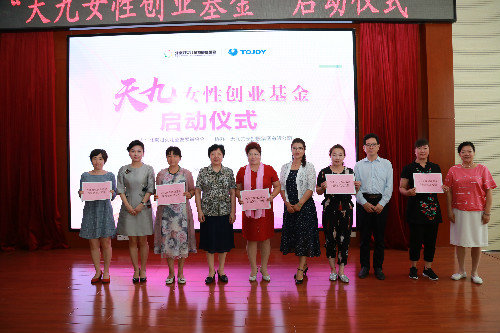 Some businesswomen receive start-up funds at the ceremony. [Beijing Women's Federation]
Beijing Women and Children's Development Foundation (BWCDF) held a special ceremony on July 30 to mark the launch of Tojoy Women's Entrepreneurship Foundation, which aims at helping women from outlying regions of the capital city to start up new businesses.
The foundation was originally set up in May with support from Tojoy Holding Group in order to make full use of private enterprises and public-welfare organizations in promoting the national strategy of targeted poverty-alleviation.
The foundation will offer assistance by providing small investments that quickly benefit women and are suitable for market demands.
Organizers aim to provide a sustainable platform for rural women and female graduates by providing them with asset aid, policy advice and skills training, improving working environment and cultivating leading figures of female entrepreneurs, which can also further lead more women to increase their incomes and improve their families' conditions, said a spokesperson.
Tojoy Holding Group has always contributed toward social public-welfare projects, and has launched many public-welfare activities in the impoverished areas, such as by subsidizing impoverished students and improving life conditions in the disadvantaged areas including southwest China's Sichuan Province, northwest China's Shaanxi Province and Inner Mongolia Autonomous Region, as well as Cambodia and other countries in Africa.
Li Zhaoling, vice president of the All-China Federation of Returned Overseas Chinese, and honorary president of BWCDF, attended the opening ceremony and gave a speech.
Co-president Han Wei of Tojoy Holding Group donated 500,000 yuan to the BWCDF as the initial capital on behalf of the company, while An Zhongyan, vice president of BWCDF awarded a donation certificate and a partnership nameplate in return.
Attendees at the opening ceremony also included Chang Hongyan, deputy secretary of the Party group of the Beijing Women's Federation.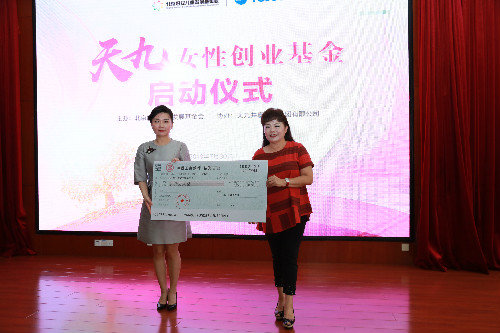 Han Wei donates 500,000 yuan to Beijing Women and Children's Development Foundation. [Beijing Women's Federation]