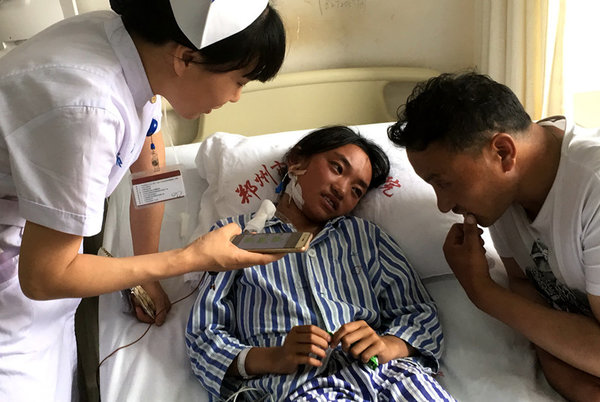 A nurse uses a mobile phone to translate and communicate with a Tibetan girl and her father at Zhengzhou Cardiovascular Hospital in Henan province on Thursday. [China Daily]
Forty-five Tibetan children with congenital heart disease began to receive free medical treatment in Henan province on Wednesday.
Due to factors in the Tibetan plateau's climate, such as low oxygen, the Tibet autonomous region has one of the highest rates of congenital heart disease in China.
Since 2012, the Chinese Red Cross Foundation has been organizing medical teams to conduct screening work and provide free medical treatment.
Since 2015, Zhengzhou Cardiovascular Hospital has rescued 165 congenital heart disease patients from the provinces of Qinghai, Guizhou and Yunnan, as well as Tibet.
Most of the 45 children this time were from Tibet's northern Nagqu city, where the average altitude is above 4,500 meters, and it was the first time they had been to a place with an elevation of only 200 meters.
These children-ranging in age from 10 months to 6 years, with one 20-year-old-are being treated at the Zhengzhou hospital in the provincial capital. The hospital has been working with the foundation since 2015 to provide free medical treatment for children from China's remote areas.
"This is the fourth time our team has offered free medical treatment in Qinghai, Guizhou, Yunnan and Tibet," said Yang Bin, director of the Third Cardiovascular Surgery Zone at the hospital.
"It will take three weeks for these children to complete their medical treatment. After that, another 40 children will receive the same treatment."
Yang said language has been a small barrier during the treatment so far; however, the children were strong and the treatment process was successful.
There is translation software in the ward, and they also use body language frequently, Yang said.
"There is still a big need for doctors and heart disease medicine in Tibet, which has a higher rate of heart disease," Yang said.
Bu Norbu, a 4-year-old Tibetan boy, received his surgery on Wednesday, and his father Shungmakyab was pleased.
"I found out my kid had congenital heart disease when he was 2. Whenever he got a cold, he had to be hospitalized for treatment," said Shungmakyab, who added that he had never dreamed of getting free medical treatment in Henan, and he said he and his son were lucky to get the help.
"We are fine here, only it is a bit hot. The food provided by the hospital is good," said Shungmakyab, adding that the hospital provided food according their customary diet.
(Source: China Daily)