Attendees at the Qianmiao Plan Research and Study camp closing ceremony [cctf.org.cn]
China Children and Teenagers' Fund (CCTF) and Young Zen Foundation jointly held the closing ceremony of the Qianmiao Plan Research and Study Camp on August 18 on the Yanqi Lake campus at University of Chinese Academy of Sciences in Beijing.
Qianmiao Plan was launched to promote fair and equal access to education across the country, and to improve children's study capacity and fulfill their dreams.
Since its launch in May, some 1,226 students from middle and primary schools in impoverished areas of 21 provinces across the country applied to attend the camp.
Approximately 100 students were selected to attend the camp at Yanqi Lake.
There, they attended courses developed by scientists and educationists, from August 7-18. Campers also enjoyed lectures on physics, artificial intelligence and architecture delivered by national experts including Zhou Zhen and Dong Jiawen.
Yang Renyu, 13, from an impoverished mountainous village in northwest China's Qinghai Province, was the host at the closing ceremony.
Yang said, "Before, I was timid, and I didn't like to communicate. But in the camp, teachers keep on encouraging me and guiding me. Now, I can give a speech in front of others, and I would take the initiative to make friends with students from northwest China's Xinjiang Uygur Autonomous Region," said he, with smile.
Meanwhile, Yang Renyu also mastered new learning methods. He studied English at a late age with weak foundations. The most difficult part for him is reciting English words.
Now, he has learned the method of word visualization. "My sister is a senior in high school now. I will teach her this method after I go home. I hope she can go to a good university," he said.
The organizers also invited 18 tutors. Sun Jiali, one of the tutors, commented, "We helped the students to adapt to the environment here and study better. Their courage, innocence and imagination stunned me. Every child's potential is infinite. I will keep that in mind forever!"
Zhu Xisheng, secretary-general of CCTF encouraged children to set their aims high at an early age, and grow up to be creative and competent builders and successors to China in a video.
Zhou Weiyan, president of Young Zen Foundation, reviewed students' changes. Some 80 percent of campers made remarkable improvements in learning attitudes, methods, concentration, communication modes and teamwork, she said.
Qianmiao Plan donor Zeng Yong said he hoped students had mastered the advanced study methods and cultivated a passionate heart for their hometown and motherland.
Zeng made a donation of 10 million yuan to the initiative, according to a commentator.
According to report, the project is set up to work with experts in diverse fields to provide teenage children, especially impoverished children, with high-quality educational resources and sufficient opportunities for further study.
The plan has also helped cultivate children's patriotism and cultural inheritance, and grow to be creative talents equipped with practical capability as well as a sense of nation mission in a highly informative and intelligent society, said organizers.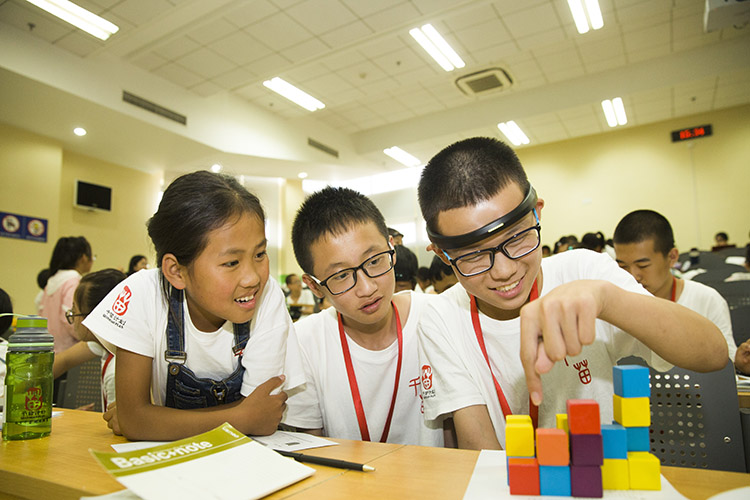 Students attend class in the camp. [cctf.org.cn]
Leaders hand out the certificates for students. [cctf.org.cn]

(Source: cctf.org.cn/Translated and edited by Women of China)