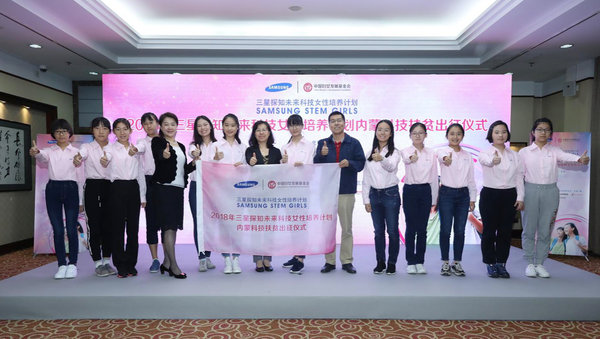 Outstanding students attend the activity.
China Women's Development Foundation (CWDF) held a ceremony to announce the latest initiative of the Samsung STEM Girls charity project in Beijing on September 22.
Samsung STEM Girls was launched in March to pass on STEM (science, technology, engineering and mathematics) subject skills to women throughout the country.
Zhang Jianmin, deputy secretary-general of CWDF, and Zhang Ronghui, vice president of the External Affairs Department of Samsung China Branch, attended the event.
As part of the project, a total of 1,000 female students from 156 middle schools across the country have attended special training courses on leadership, sustainable development and creativity under the instruction of experts from New York Academy of Sciences.
Then, together with experts from the Chinese Academy of Sciences (CAS), 12 outstanding students will be sent to impoverished areas in Hure Banner, north China's Inner Mongolia Autonomous Region, during Mid-Autumn Festival.
The trip is organized by the Research Center for Eco-Environmental Sciences of CAS, and participants will work to strengthen locals' environmental protection awareness by focusing on sewage treatment, rainwater collection, garbage disposal, and toilet renovation.
The team will probe into the quality of surface water, underground water, and rural drinking water in Hure Banner, and then draft investigation reports and propose solutions. After receiving approval from the CAS, they will take actions to improve water safety. In 2019, they will return there to assess their work results.
"Women and school girls have the greatest potential in sci-tech innovation, so it is especially urgent and important to guarantee their equal rights to science education and inspire their enthusiasm in learning and technology,," said Zhang Jianmin.
"Women and sci-tech are the two main topics of the activity. We hope Samsung STEM Girls can encourage more women to pay attention to sci-tech, so that they will have the passion and ability to create a brighter future," said Zhang Ronghui.