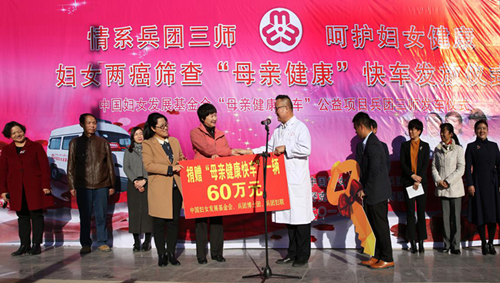 Attendees at the donation ceremony [CWDF]
China Women Development's Foundation (CWDF) donated 600,000 yuan worth of vehicles and equipment to a hospital in Kashi, northwest China's Xinjiang Uygur Autonomous Region, on November 13 to help provide cervical and breast cancer screening.
Officials from CWDF, Xinjiang Production and Construction Corps Women's Federation, the corps' Doctors' Regiment, and Tumushuke Party committee attended the donation ceremony and made speeches.
The remote vehicle referred to in the scheme is expected to serve as a mobile hospital in the city, providing convenient and efficient check-ups for the locals to handle common medical problems.
"The medical equipment in the vehicle is advanced; it greatly improves our work efficiency," said a doctor. "Now, local women have better access to medical services at home."
After the ceremony, organizers paid a special visit to Tuoyun Pasture, an area mainly populated by ethnic minorities and plagued with poverty and natural disasters.
To raise local women's awareness of preventing gynecological diseases, they organized an activity to publicize health knowledge.
The organizers also visited the home of a recipient of free 'two cancers' screening.
"Thanks to the help from the Party and women's federations at all levels, I have recovered physically," the woman said, adding that "I will try my best to be an independent woman in the future."
This year marks the 30th anniversary of the founding of CWDF, as well as the 15th anniversary of the charity project Health Express for Mothers.
The express vehicle was bought with funds provided by the organizers and China's tech giant Tencent, according to a spokesperson.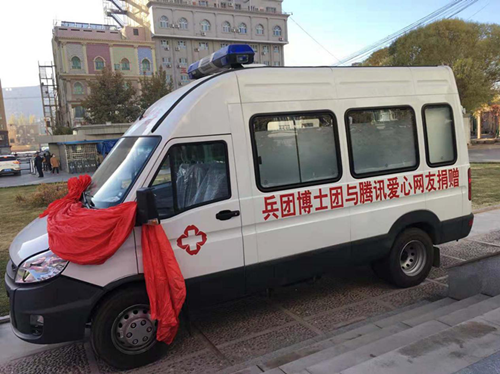 The health express vehicle [CWDF]
Doctors and local women [CWDF]
(Source: China Women Development's Foundation / Translated and edited by Women of China)