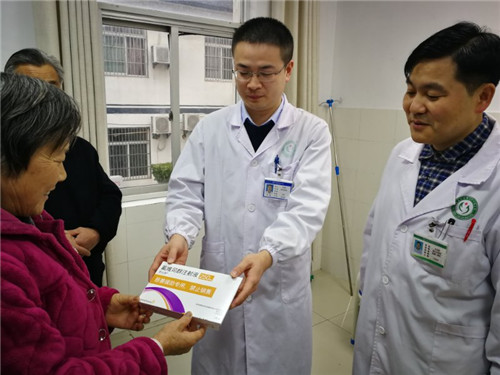 A woman in Hefei receives medicine offered by CWDF and AstraZeneca. [CWDF]
China Women's Development Foundation (CWDF) and pharmaceutical company AstraZeneca recently implemented a charitable project in Hefei, east China's Anhui Province, to offer free medicine for impoverished breast cancer patients and draw public attention to women's health.
As the first beneficiary of the scheme, one woman with breast cancer in Hefei received free medicine for her treatment on January 30.
The project was set up nationally in October 2018 to help ease the economic burden caused by large medical expenses for terminal breast cancer patients, and improve the accessibility of Faslodex, a medicine produced by AstraZeneca that treats breast cancer through the endocrine system.
The woman in Hefei underwent surgery five years ago and has had several courses of chemotherapy and radiation. She said that the project gave her confidence to recover and help her family financially.
Breast cancer has become the major health threat for Chinese women. The project's implementation will provide a practical guarantee for effective treatment for terminal cancer patients, according to a representative.
Five hospitals, respectively in Hefei, Yichang, Tianjin, Xi'an and Shenyang, comprised the project's first group of partners.
(Source: China Women's Development Foundation / Translated by Women of China)