Click the photo to watch the video.
The launching ceremony of a newly created charity song Sunshine of Love was held in Beijing on May 8 to kick off a national singing event to promote the cause of people with disabilities.
The song was written by China's well-known musician Guo Feng, and recorded by 111 stars from the Chinese mainland, Taiwan Province and Hong Kong and Macao special administrative regions. More than 200 people attended the ceremony.
Guo said the song looks at the lives of the people with disabilities and conveys their longing for the good life. It spreads the positive energy of self-improvement and mutual help, and speaks of the inner world of people with disabilities.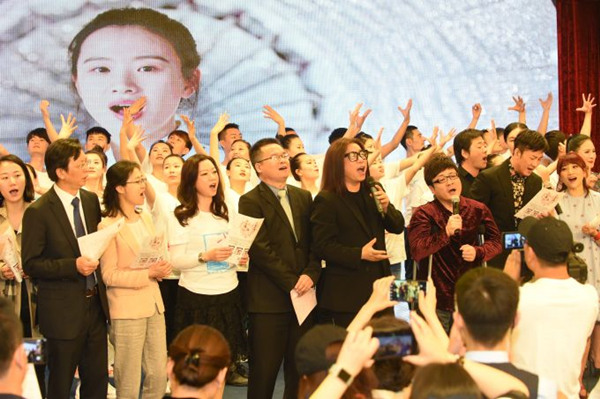 The launching ceremony of a newly created charity song Sunshine of Love is held in Beijing on May 8. [cdpf.org.cn]
At the same time, the song encourages the disabled to create a better life with optimism and an enterprising spirit, and walk hand in hand with other people to share the sunshine of love.
Guo said that the song was recorded at an unprecedented scale, bringing together 111 stars in China. It was recorded in Beijing, Hong Kong and other places from Mar 19, taking one and a half months. Beginning on May 8, the song will be put on major music websites and music TV programs, and national singing activities will be launched across China.
Guo Liqun, director of the Department of Publication and Culture of the China Disabled Persons' Federation, said that Sunshine of Love has a beautiful and exciting melody that has produced a wide range of social influences. It is believed that the release of the song will further enhance public understanding of the cause of the disabled, and play a positive role in helping people with disabilities fight poverty and build a well-off society.
Zhang Yanhua, secretary-general of the China Foundation for Disabled Persons (CFDP), said that the Sunshine of Love national sing-along event was intended to show the extraordinary achievements of people with disabilities in China, and call on the whole society to help them to share the fruits of social civilization.
The Sunshine of Love singing activities will be widely carried out at campuses, factories, hospitals, and communities. The CFPD and the China Post Group Beijing Branch published charity stamps featuring Sunshine of Love, a chance for the public to donate to support the development of cultural activities for people with disabilities.
(Source: China Daily)