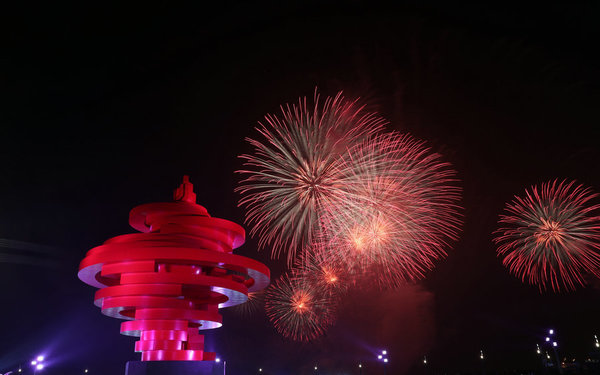 Fireworks and a light show color the Qingdao skyline during a performance to welcome leaders attending the 18th Shanghai Cooperation Organization Summit in Shandong province on Saturday. [China Daily]

A stunning spectacle on the sea in Qingdao welcomed overseas leaders and delegates in town for the 18th Shanghai Cooperation Organization Summit on Saturday night.
The show, which lasted about 20 minutes, was a mixture of classical and modern Chinese styles and featured a giant globe as its centerpiece, symbolizing the nation's commitment to a community of shared future for mankind.
Three Stanzas of Plum Blossoms, an ancient Chinese piece of music, opened proceedings before various routines involving about 100 performers and a light show incorporating the skyscrapers along the eastern city's Fushan Bay.
"It's the first time the stage for such a gala has interacted with a city's skyline and the sea," said Zhang Yimou, the show's director. "We wanted to use the ocean to represent inclusiveness."
At one point, an "astronaut" emerged from the globe, an element Zhang said represented how China has embraced modern technology and has an open attitude to the future.
The show closed to Russian composer Tchaikovsky's Piano Concerto No 1 as fireworks lit the sky.
Zhang planned the gala with art director Yi Ming. The duo previously collaborated on shows for the 2008 Beijing Olympics and the G20 Summit in Hangzhou, Zhejiang province, in 2016.
In February, a show they devised was performed at the closing ceremony at the Pyeongchang Winter Olympics in South Korea, with the next Games to be co-hosted by Beijing.
"Coastal cities create a dreamlike feeling," Yi said shortly before Saturday's gala. "If we do well, Qingdao will leave a great impression in the hearts of people watching at home on TV."
Despite their rich experience, Yi said there were many difficulties in preparing for the Qingdao gala, largely due to the decision to set the stage on the sea.
He said they spent six months preparing in Beijing, but at least 80 percent of their plans had to be scrapped once they arrived on-site. This was down to the interchangeable weather on the sea, he said, adding that heavy fog had shrouded Fushan Bay and only cleared on Saturday.
"We had to prepare for the toughest of situations," Yi said.
He said he chose simple, realistic makeup and costumes over abstract designs as "natural, confident smiles are the best way to touch an audience".
Qingdao is in Shandong province, the birthplace of ancient philosopher Confucius and home to Taishan Mountain, which has great cultural and historical significance. Images of both were displayed in the gala, as well as other recognizable folk art icons.
According to Zhang, mixing traditional culture with a high-tech approach was an important part of Saturday's gala, reflecting China's rising economic and technical power.
"China not only has a long history but many modern elements, too. Today, we wanted to show the Chinese people's spirit through the show," he said, adding that he feels this combination will be a trend of large-scale shows in China.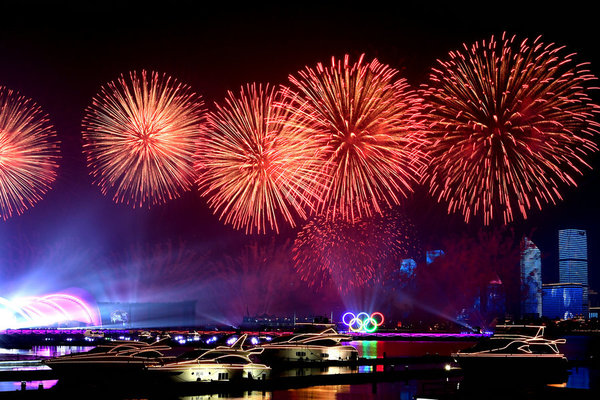 Fireworks and a light show color the Qingdao skyline during a performance to welcome leaders attending the 18th Shanghai Cooperation Organization Summit in Shandong province on Saturday. [China Daily]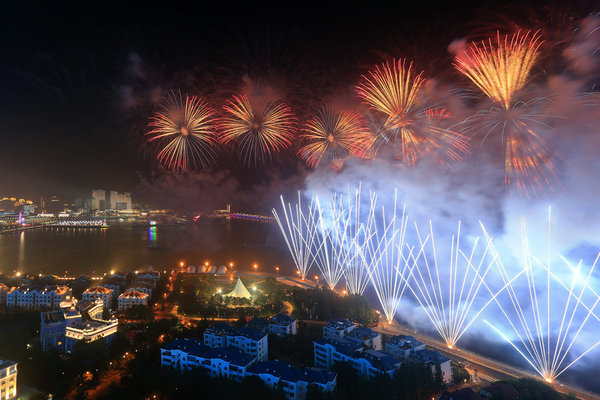 Fireworks and a light show color the Qingdao skyline during a performance to welcome leaders attending the 18th Shanghai Cooperation Organization Summit in Shandong province on Saturday. [China Daily]
Fireworks and a light show color the Qingdao skyline during a performance to welcome leaders attending the 18th Shanghai Cooperation Organization Summit in Shandong province on Saturday. [China Daily]
(Source: China Daily)