Guests have a discussion at the 11th China MICE Golden Chair Awards Ceremony. [Women of China/ He Qiuju]
China's leading high-end tourism and exhibition publication, MICE (meetings, incentives, conferences, exhibitions), held the 11th China MICE Golden Chair Awards Ceremony in Beijing on August 8 to commend outstanding businesses.
The event gathered representatives from hotels, tourism administrations, airlines, travel agencies, as well as corporate and media representatives.
Li Jun, editor-in-chief of MICE, said the annual meeting was held in the hope to build a dialogue platform for the tourism and events industry in China, disseminating the latest information in the industry, and promote the development of all parties.
Chu Xiangyin, vice-president of the China Convention and Exhibition Society (CCES), said in his speech that, "In recent years, the momentum of the entire MICE industry is sound. I hope that more such industry events will be held to promote the development and progress of the industry.
"At the same time, I hope the award-winning enterprises will take the lead in guiding and normalizing the market environment of the industry in China."
In the subsequent individual speech session, Wu Shaoyuan, executive vice-president of the Alliance of China Conference Hotels (ACCH), talked about the China's reform and opening up and international conferences, which helped attendants understand the future development trend of international conferences in China.
Yao Hong, deputy secretary-general of the MICE Committee of China Association of Travel Services, mentioned in her keynote speech "The Revolution and Development Trends in the Global MICE Market", that MICE activities and business travel management will gradually be merged.
In the discussion session, Yao, together with four senior guests from the MICE industry — Zhang Xinli, vice-president of China Travel Service MICE Service Co., Ltd.; Yin Wei, vice-president of Meiya Group; Yang Fengchun, chief operating officer of MICE service website Eventown.com; and Ma Xiaoqiu, deputy general manager of Grand China MICE Holdings Co., Ltd., raised a discussion on innovative growth in China's MICE industry upgrading, current status and hot issues of the development of the MICE market, and the new challenges and opportunities brought by market demand.
Some 104 awards have emerged in 21 categories this year by consistent selection criteria of the industry and readers. The organizer evaluated the comprehensive power of the participating units and their performance in the last year, as well as readers' evaluation and the objective, professional and impartial review of experts.
Chu Xiangyin, vice-president of the China Convention and Exhibition Society (CCES), speaks at the ceremony. [Women of China / He Qiuju]
Wu Shaoyuan, executive vice-president of the Alliance of China Conference Hotels, speaks at the ceremony. [Women of China / He Qiuju]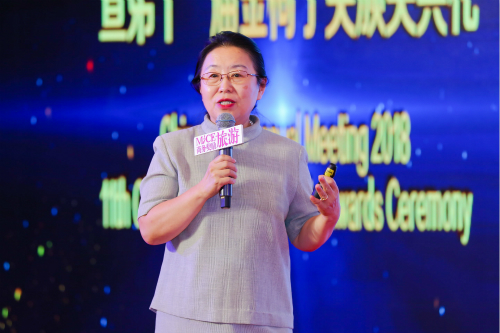 Yao Hong, deputy secretary-general of the MICE Committee of China Association of Travel Services, delivers a keynote speech at the ceremony. [Women of China / He Qiuju]
Li Jun (R1) and representatives of award winners at the ceremony [Women of China/ He Qiuju]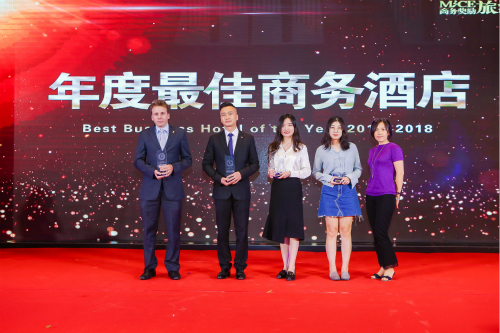 Representatives of winners of the Best Business Hotel of the Year 2017-2018 [Women of China / He Qiuju]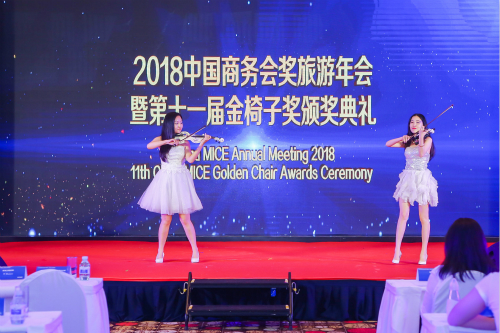 Perfomers play the violin at the ceremony. [Women of China / He Qiuju]