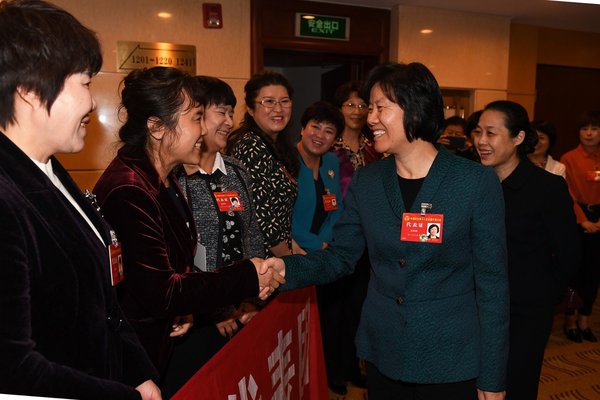 ACWF President Shen Yueyue visits delegates to the upcoming 12th National Women's Congress in Beijing on October 28. [Women Voice]
Shen Yueyue, President of the All-China Women's Federation (ACWF), and Huang Xiaowei, Vice-President and First Member of the Secretariat of ACWF, visited delegates to the upcoming 12th National Women's Congress of China (NWC) in Beijing on October 28.
Shen greeted each member of the State-owned Enterprises Delegation, talked with representatives of the Tibetan Delegation and listened to their stories.
Learning over 100 female pilots were enrolled by the Civil Aviation Administration of China, Shen said women nowadays have made significant contributions in various industries.
Shen affirmed Tibet delegates' achievements in shaking off poverty. She said she hoped more women will participate in the poverty alleviation campaign and increase their incomes.
Shen said the congress is a grand event that follows the 19th National Congress of the Communist Party of China (CPC) and highlights Xi Jinping Thought on Socialism with Chinese Characteristics for a New Era.
Shen stressed all delegates should enhance their sense of political responsibility and mission, earnestly perform their duties, strictly abide by the discipline of the conference, and complete various tasks to ensure the smooth progress of the conference.
Shen hopes that delegates will convey the spirit of the important speeches made by General Secretary Xi Jinping, the address of the CPC Central Committee to the congress and the goals and tasks set out by the congress to the grassroots women.
She stressed the delegates should work diligently in their posts; lead women in strengthening their consciousness of the need to maintain political integrity, think in big-picture terms, follow the leadership core, and keep in alignment, and strengthening their confidence in the path, theory, system, and culture of socialism with Chinese characteristics; and rally women of all sectors across the country to follow the leadership of the CPC.
Huang visited some delegates at China Palace Hotel, and shook hands with them.
Huang, together with 33 members of the Guizhou Delegation, who wore the traditional costumes, read a poem entitled "Songs of Pediments".
Huang said the high proportion of grassroots delegates to the congress is an embodiment of the spirit of deepening the reform of mass organizations under the guidance of the CPC Central Committee. Thus, delegates should conscientiously study and understand the important remarks of General Secretary Xi Jinping on women and women's work.
Delegates should actively talk about politics; perform their duties as publicists of the congress; lead women in following the leadership of the CPC; and, complete the tasks of the conference, Huang added.
Members of the Secretariat of the ACWF such as Zhang Xiaolan, Xia Jie, Deng Li, Tan Lin and Yang Liu also attended the event.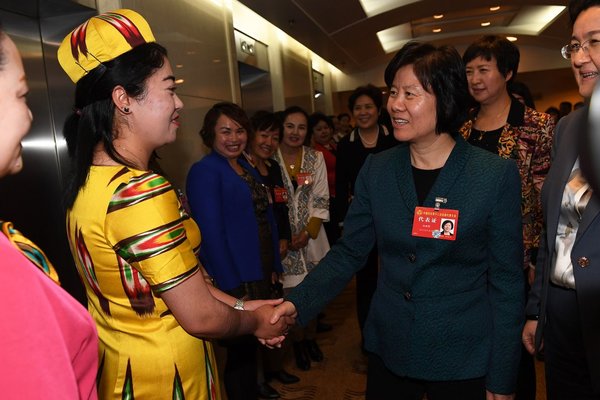 ACWF President Shen Yueyue visits delegates to the upcoming 12th National Women's Congress in Beijing on October 28. [Women Voice]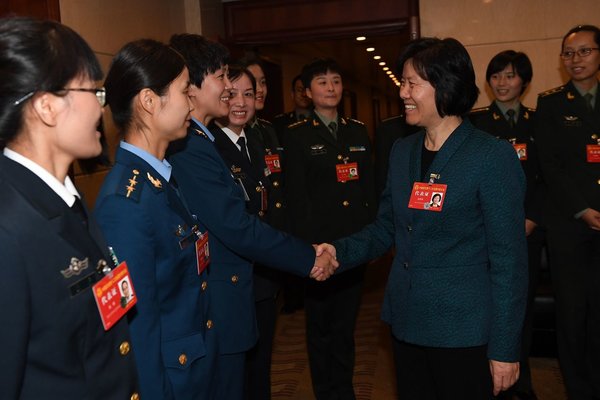 ACWF President Shen Yueyue visits delegates to the upcoming 12th National Women's Congress in Beijing on October 28. [Women Voice]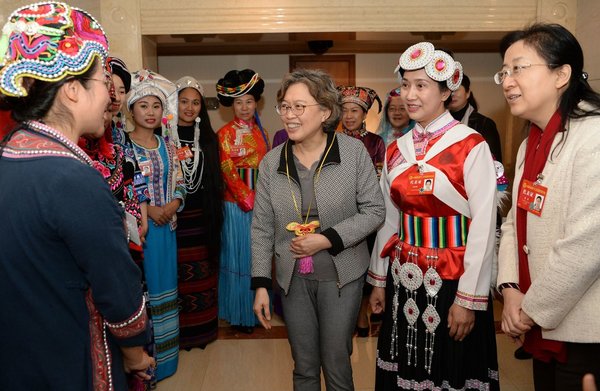 Huang Xiaowei, Vice-President and First Member of the Secretariat of the ACWF, visits the delegates to the upcoming 12th National Women's Congress in Beijing on October 28. [Women Voice]
(Source: Women Voice/ Translated and edited by Women of China)