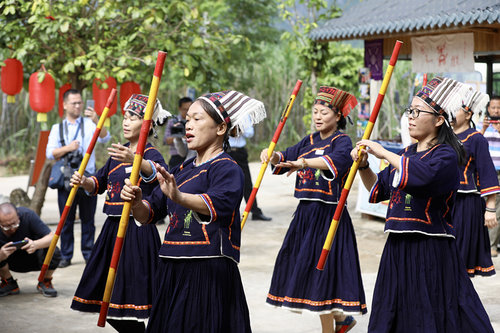 Wearing ethnic costumes, dancers of the Zhuang ethnic group perform at a rural tourism site in Ningming County in the Guangxi Zhuang Autonomous Region on Sunday. [China Daily]
The Guangxi Zhuang Autonomous Region has switched its development mode from resource-consuming to environmentally friendly, according to a senior official.
"We used to pursue economic growth but didn't pay attention to quality and environmental protection," Chen Wu, the region's deputy Party secretary, said during a news conference of the State Council Information Office in Beijing on Thursday. "Traditional industries, such as metals and sugar manufacturing, have contributed to economic growth but also pose great challenges to the environment — water pollution, for example."
Although the region has made great strides in economic growth since its founding 60 years ago, higher-quality development is now being stressed for future sustainable development, he said.
Guangxi became an autonomous region in 1958 and is home to 56 million people, with about 21 million from 11 ethic groups, including Zhuang, Yao, Miao and Dong.
Chen said high-tech industries, including in the information sector, biomedicine and new-energy cars, have been introduced to help improve its industrial structure.
"We had virtually no information technology companies before," he said, adding that the market value of all companies in the information sector in Guangxi is now about 200 billion yuan ($28.8 billion). "We also have a share in the national car market, with our vehicle output reaching 2.5 million."
Guangxi also took advantage of opportunities to deepen economic connections with the world, especially countries and districts from the Association of Southeast Asian Nations, to boost quality development.
The statement said that Guangxi's volume of exports and imports had reached more than $57 billion, about 2.1 times that of 2012.
Combined, members of ASEAN have been Guangxi's largest trading partner for 17 years running, with trade volume totaling $28.1 billion.
Environmental protection is also key to Guangxi's high-quality development, Chen said, with energy consumption per unit of GDP in Guangxi decreasing by 3.4 percent last year.
Chen said Guangxi's rich natural resources can also be used to develop tourism and leisure-related industries to help balance economic growth with ecological protection.
Guangxi's economic aggregate had increased to about 2 trillion yuan by the end of 2017, with revenues reaching 260 billion yuan last year — an average annual increase of 11.3 percent over the past 60 years, according to a statement at the conference.
(Source: China Daily)