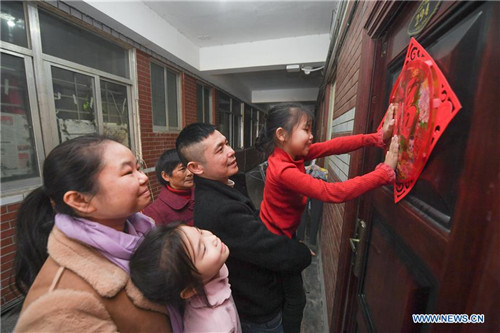 Huang Haoran helps his child Huang Jiayun paste a poster of the Chinese character "Fu", which means good luck, on the door of the dormitory of the bag factory in Fuqing City, southeast China's Fujian Province, Jan. 25, 2019. [Xinhua/Song Weiwei]
Huang Haoran and his wife Wang Li worked in a large-scale private factory about six months in Fuqing City of southeast China's Fujian Province, but their two daughters Huang Shiyun and Huang Jiayun were looked after by Huang Haoran's mother Peng Zhulan in their hometown, which is located at Mujiangchong Village of Huangjia Township in Longchang City, southwest China's Sichuan Province.
For family reunion, Peng Zhulan and her grandchildren embarked on a long journey to Fujian. This is the first time the little siblings and their grandmother came to Fujian by bullet train. However, before nearly 11 hours of railway journey to reach Fuzhou, the trio needs to spend about four hours taking a coach bus from their hometown to southwest China's Chongqing and stay overnight. After knowing the couple's family situation, the factory arranged a room exclusively for Peng Zhulan and a car to pick up Peng and her granddaughters at Fuzhou South Railway Station in Fuzhou.
The factory is still busy running despite the Spring Festival around the corner. Huang Haoran and his wife Wang Li are busy working as usual, leaving Peng and her granddaughters in the dormitory looking forward to the Lunar New Year holidays.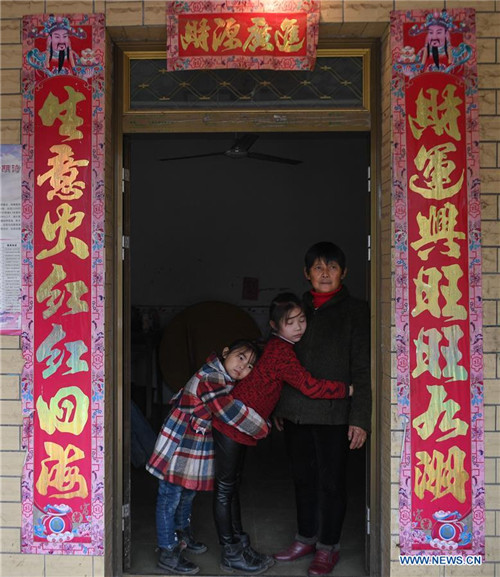 Huang Shiyun (C) and her sister Huang Jiayun lean close to their grandmother Peng Zhulan at the door of their home at Mujiangchong Village of Huangjia Township in Longchang City, southwest China's Sichuan Province, Jan. 23, 2019. [Xinhua/Song Weiwei]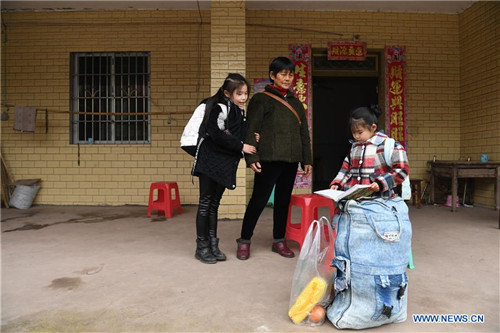 Peng Zhulan (C) and her granddaughters wait for a coach bus with luggage outside their home. [Xinhua/Song Weiwei]
Peng Zhulan (2nd L) and her granddaughters walk to board a bullet train heading to the Fuzhou South Railway Station in Fuzhou of southeast China's Fujian Province at the Chongqing West Railway Station in Chongqing. [Xinhua/Song Weiwei]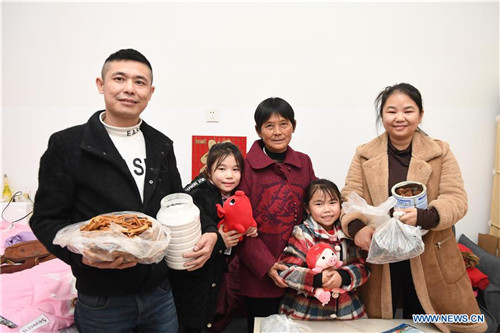 Huang Haoran (L) and his family members display gifts they exchanged at the dormitory of a bag factory in Fuqing City, southeast China's Fujian Province, Jan. 24, 2019. [Xinhua/Song Weiwei]
(Source: Xinhua)