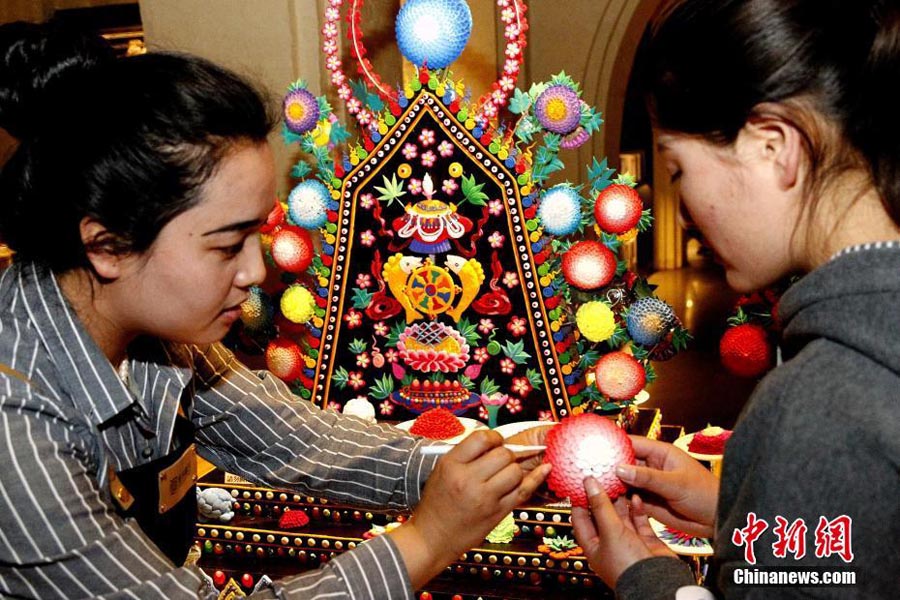 A visitor learns to make a butter sculpture from a local craftswoman at Geometry Bookstore in Xining, Northwest China's Qinghai Province, on March 20, 2018. [Chinanews.com]
The Chinese provinces of Qinghai and Yunnan have enacted new ordinances to promote ethnic unity and progress.
Qinghai province, located in the eastern part of the Qinghai-Tibet Plateau, adopted a new regulation to promote ethnic unity and progress. Yunnan, in the southwest, adopted a similar regulation with an aim to build itself into a demonstration region for ethnic unity.
Both regulations go into effect on May 1.
Qinghai is the second largest Tibetan-speaking region in China. It is home to 54 ethnic minorities, including Tibetan, Hui, Mongolia, Tu, and Salar. Ethnic populations account for 47.71 percent of people in the province. It has six ethnic autonomous prefectures, seven ethnic autonomous counties and 28 ethnic townships.
Ethnic solidarity is particularly important for Qinghai and the regulation will cement the legal base for ethnic solidarity and inter-ethnic ties, said Li Doje, vice-chairman of the ethnic affairs committee of the Qinghai Provincial People's Congress, who is of Tibetan ethnicity.
Qinghai has over 200,000 people of Hui and Salar ethnicities working in the hand-thrown noodle industry in other provinces. The regulation requires government authorities to improve services and ensure the rights of migrant workers in child education, employment and other areas.
The regulation supports the preservation of ethnic culture in villages and townships. It also encourages teachers to work in far-reaching areas of the ethnic region.
Yunnan also has a large ethnic population. A total of 25 ethnic minorities, each with a population of more than 5,000, have lived in Yunnan for generations. About 16 million people, or 33.4 percent of its population, are ethnic minorities.
The regulation in Yunnan highlights infrastructure building, ethnic industries, public services, preservation of ethnic culture, and cultivation of ethnic cadres and talent as priorities.
It requires local government authorities to advance ethnic unity and set aside funding to support the endeavor.
(Source: Xinhua)