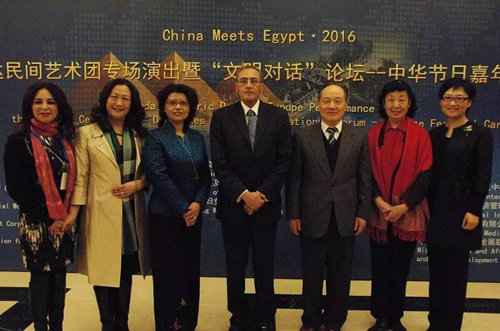 Group photo of officials from the Egyptian Embassy in China and Beijing Women's Federation. [Courtesy of Beijing Women's International Exchange Center]
The Beijing Women's International Exchange Center organized a bilateral cultural exchange activity titled 2016 China Meets Egypt, on February 25 in the capital.
The event was designed to let both countries "express their values of China-Egypt friendship and their respect for local cultures", said organizers.
At the event, dancers from Egypt gave a splendid performance, demonstrated national customs and shared their outlook on life with their international counterparts.
The activity marked the latest cooperation between Beijing Women's Federation and the Egyptian Embassy in China. It also doubled as the closing ceremony of the forum "Dialogue of Civilization" Chinese Festival Carnival.
At the ceremony Magdy Amer, Egyptian Ambassador to China, gave a speech. He noted that the Egyptian Embassy in China and Beijing Women's Federation have kept a close relationship over the past two years and a series of activities have taken place during that time.
Ambassador Amer said he expected the two groups to further strengthen their cooperation so as to promote more cultural exchange.
In her speech, Vice-President of the Beijing Women's Federation Chang Hongyan echoed the diplomat's sentiments. She also expressed her thanks for the Egyptian Embassy's support.
Meanwhile, Chang said she hoped to deepen the mutual trust and create a better future for both of the participating countries.
The Egyptian dancers, from the Rida Folk Art Troupe, were originally invited by the Ministry of Culture to bring their special displays to Chinese audiences.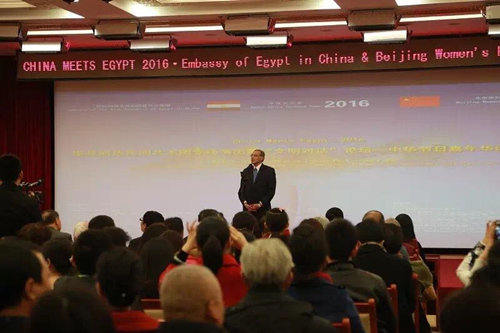 Magdy Amer, Egyptian Ambassador to China, gives a speech at the ceremony. [Courtesy of Beijing Women's International Exchange Center]
Egyptian dancers perform at the event. [Courtesy of Beijing Women's International Exchange Center]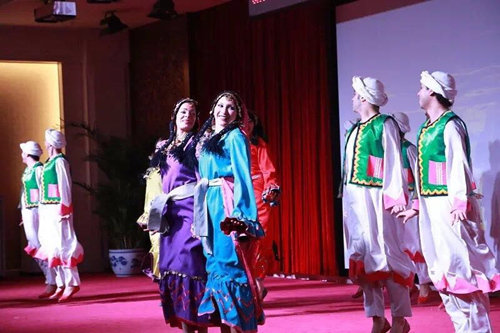 Egyptian dancers perform at the event. [Courtesy of Beijing Women's International Exchange Center]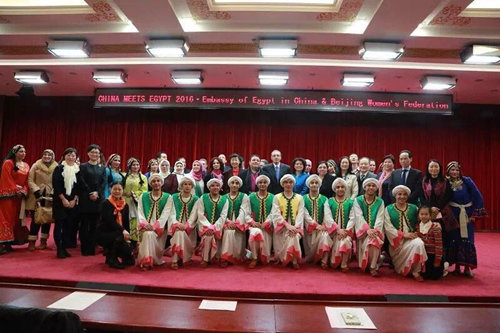 Group photo of performers at the closing ceremony of the forum 'Dialogue of Civilization' Chinese Festival Carnival. [Courtesy of Beijing Women's International Exchange Center]