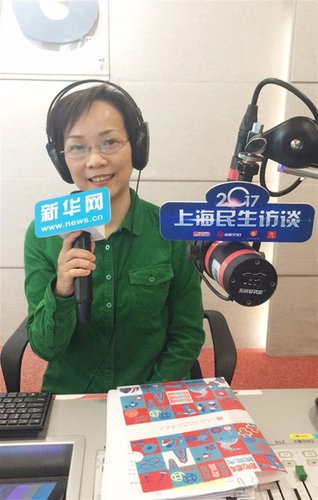 A journalist interviews a local official in Shanghai. [Shanghai Daily]
Every citizen in Shanghai should be within a 15-minute walk of a cultural event or building, announced Shanghai Cultural Administration of Radio, Film and Television, which is trying to achieve the aim.
"The whole idea of a network based on facilities of different levels is to ensure accesses to at least one culture-related space within 15 minutes for every resident," said Yu Xiufen, the administration's president. That included services with convenient access, ranging from stage performances to books to movies.
Stage performances were provided throughout Shanghai, via traditional theaters, public art centers, and community cultural activity centers, she said.
The city had more than 70 art galleries and 125 museums, and residents could borrow books from any library.
The city had seen a significant growth of cinemas in recent years. Special screenings for blind and deaf residents were regularly held, she added.
In addition, a new app for culture-related information and related booking services— Culture Shanghai Cloud — had been launched.
"We hope that the data will tell us the particular needs of groups in different communities and regions, so as to help us perfect our services," said Yu.
(Source: Shanghai Daily)