97 museums in Beijing are open to the public for free on May 18, 2017. [Chinanews.com]
Hundreds of museums have opened their doors for free in China to mark the 41st National Museums Day, May 18 2017.
Now in its 41st year, the event is designed to promote Chinese culture and time-honored history, and encourage people to visit museums more frequently.
China's capital city, Beijing, is the main venue of this year's celebrations, which have as a theme this year "Museums and contested histories: Saying the unspeakable in museums".
"The role of the museums in the services society is to continue a discussion among museum professionals, not only to ensure that museums strive to lead the way in exchanging information about history, culture and nature, but also to promote sustainable practices and ongoing education for the user of the resources," said Peter Keller, Director-general of the International Museum Association.
He further explained that visitors should benefit from museum resources and presentations to be stimulated and gain a greater understanding of the world.
Official figures show that, as of the end of 2016, the number of registered museums in China reached 4873, up 181 on the year before, demonstrating a steady growing trend.
"We now have a well-established museum system. Industrial and non-state-owned museums present a vigorous developing tendency. So far, non-state-owned museums have accounted for 26.6% of the total number of museums in China," said Li Yuzhu, director of State Administration of Cultural Heritage
He added that, over 87% of China's museums are open to the public free of charge.
As part of Museum Day activities, the Capital Museum is presenting an exhibition of archaeological finds made over the past 20 years.
Many other museums in Beijing, including the Palace Museum, also known as the Forbidden City, and the National Museum of China, are also participating in the event.
Around 400 collections from 19 provinces are being displayed, most of which are new archaeological finds since 1996.
The occasion has also seen the establishment of the Museums with Friendly Alliance Along the Silk Road, involving over 50 museums around the world.
The move comes hard on the heels of the prestigious Belt and Road forum in Beijing, held to discuss the China promoted initiative that brings together more than 60 countries in trade, economic and cultural partnerships.
Wang Bin is the director of the alliance, and the curator of Xi'an Tang West Market Museum in central China's Shaanxi Province, one of China's first-class museums.
"Serving a museum alliance, our jobs are mainly focused on the exchanges of exhibitions, information and personnel, along with cooperation in the field of cultural relics' protection. We aim to enhance mutual learning among civilizations of countries along the Silk Road, and thus to boost people-to-people and cultural exchanges along the Belt and Road," he said.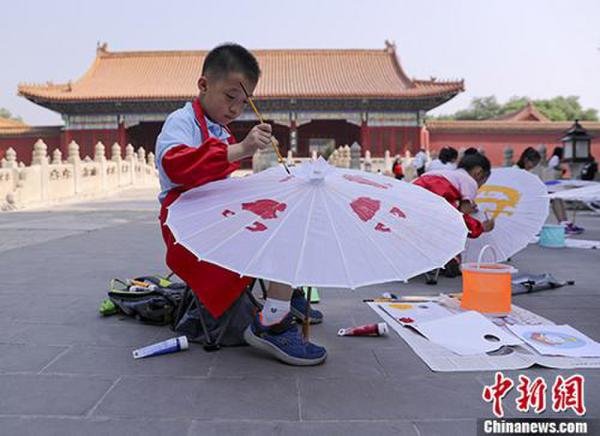 A student joins a celebration activity for International Museum Day in the Forbidden City in Beijing, China on May 18, 2017. [Chinanews.com]
(Source: China Plus)