Olga Melinikova (L), director of the Russian Cultural Center in Beijing, gives a speech. [Women of China/Ye Shan]
The Russian Cultural Center in Beijing hosted an event to celebrate New Year in the capital on December 22, and sent special greetings for the upcoming festive season.
"New Year celebrations come in many forms and highlight our best traditions. It is common in Russia to send greetings in the form of beautiful poems at this time of year," said Olga Melinikova, director of the center, during the event.
Such greetings can be sent via text message right up to the last minute of December 31, Melinikova added. As New Year approaches, cities and towns across the country are filled with people's best wishes for one another.
"In our culture, there are many symbols that come from China. We are also waiting in anticipation of the Year of Dog, during which time we hope all of our dreams will come true."
Melinikova greeted participants, including representatives from the media, by encouraging them to embrace a new joyfulness in 2018.
She said she hoped that the China-Russian partnership would be strengthened and cultural communications between people of the two countries would be enhanced in future.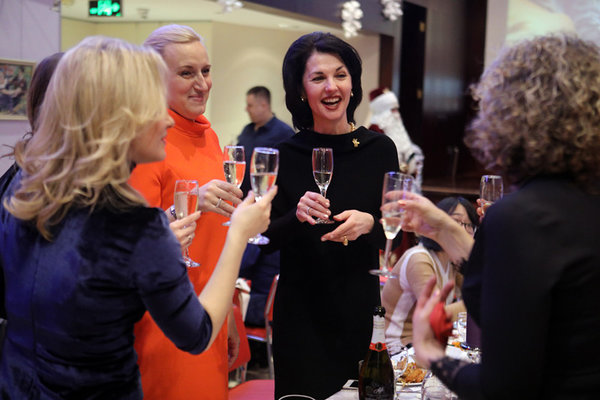 Olga Melinikova leads a toast at the event. [Women of China/Ye Shan]
Participants at the event share a dance. [Women of China/Ye Shan]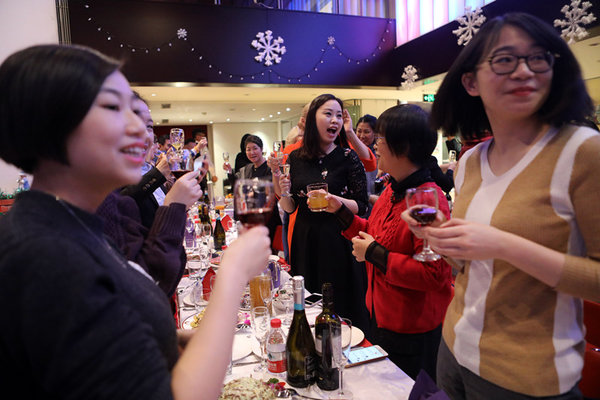 Participants send New Year greetings to one another. [Women of China/Ye Shan]
A pair of dancers perform a tango. [Women of China/Ye Shan]
Dancers pose for a photo with Olga Melinikova. [Women of China/Ye Shan]
(Women of China)