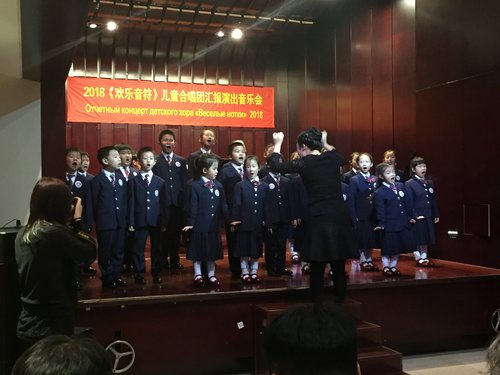 Students and teachers from the Happy Notes choir perform for audiences. [Women of China / Li Wenjie]
The Russian Cultural Center in Beijing hosted a special performance by a children's choir featuring young members from home and abroad on January 27.
The choir, called Happy Notes, was established in September last year to "create memories and pass on friendship," said Olga Melnikova, counselor of the Russian Embassy and director of the center.
The children's choir have added bright color to cultural and artistic exchange, as well as the development of positive interaction between children and teenagers in China and Russia, she added.
The Happy Notes singers practice classic Chinese and Russian songs and learn about the two countries' culture, art and history.
Music teachers and management staff of the choir include professionals from the Central Conservatory of Music, the China Conservatory of Music and music high schools in Russia.
After the performance, Melnikova and representatives from the Chinese Children Culture and Art Promotion Society presented awards to children who attended the Flag of Peace initiative in Beijing in September and October last year.
During the initiative, students who attended the Center's arts workshop took part in a painting contest. The Center's folk dance troupe also performed at the Olympic Forest Park.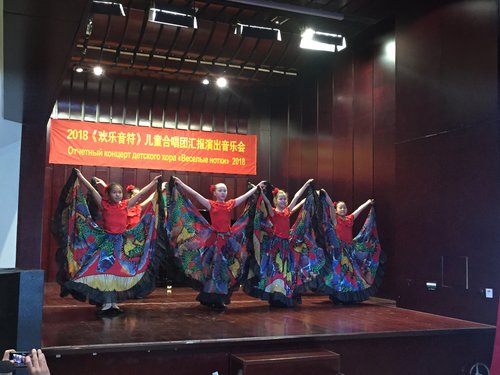 Students from the Happy Notes choir perform for audiences. [Women of China / Li Wenjie]
Members of the children's chorus pose with Olga Melnikova after the event. [Women of China / Li Wenjie]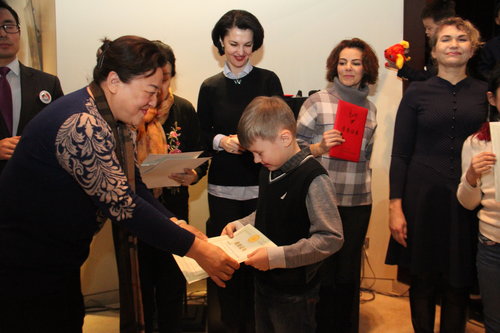 Organizers present awards to participants of the Flag of Peace initiative [Photo Supplied by Russian Cultural Center in Beijing]