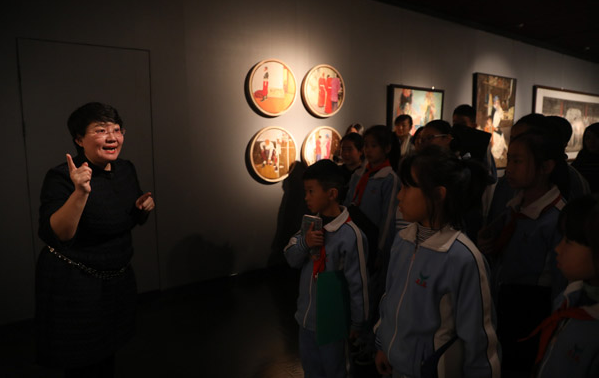 A group of primary school students at the National Center for the Performing Arts. [Photo provided to China Daily]
"Imagine you are walking across a garden full of beautiful flowers. Your eyes are busy looking around," Wang Jin, a veteran Kunqu Opera actress from the Northern Kunqu Opera Theater in Beijing tells a group of students at a training class in Beijing.
"Press your toes into the ground and let your heels rise. Just take your steps quickly and lightheartedly."
About 10 students from Beijing Zizhong Primary School, both boys and girls, gathered at the third floor of the National Center for the Performing Arts in Beijing recently and followed Wang's instructions as they walked around in a circle.
They were playing the role of a young woman. During the 40-minute class, Wang demonstrated the basic techniques and movements of the 600-year-old Kunqu Opera.
"I've never walked like this, which is the typical walk of a female role of traditional Chinese opera," says one of the students, Zhang Minqin, who is in the fifth grade. "I am more familiar with the way of male role walks. But it is funny to walk like a girl."
Zhang is no stranger to traditional Chinese opera since he started learning Peking Opera about two years ago after participating in a free training program organized by the NCPA.
"Most of the students have never watched Kunqu Opera performances before and I try to make this ancient art form come alive and be of interest to them," says Wang, in her 40s, who has been involving in training amateur students during the past five years with the Northern Kunqu Opera Theater. "They don't necessarily become professional Kunqu Opera actors when they grow up. But I believe the experience of performing Kunqu Opera will let them get closer to the traditional Chinese arts."
That afternoon, Zhang was among more than 1,200 students from Zizhong Primary School and the primary school affiliated to Beijing No 166 Middle School to participate in public art programs organized by the NCPA.
A group of primary school students at the National Center for the Performing Arts. [Photo provided to China Daily]
Besides Kunqu Opera, students also received training in choir singing, drama and painting. More than 700 students' parents joined their children's courses that day.
As a part of the ongoing celebration programs to mark the NCPA's 10th anniversary, drama shows, instrumental performances and dance works by students from the two schools were staged at the NCPA in mid-December.
In 2014, the Beijing municipal government launched a project to introduce arts education into the capital's primary schools. The NCPA was among the first of 28 organizations to participate in the project. During the past three years, the NCPA has brought 24 shows to the two schools and invited students to watch more than 400 shows at the venue, involving more than 85,000 students in total.
"Many children are learning musical instruments like the piano and violin in China. Besides the chance to learn music, we also let them act, paint, read and write poetry, too. All of those programs give the students a new language," says Wang Dayu, director of the NCPA's art eduction department.
She notes that the NCPA has a slogan-art changes life-and for the young generations, art plays a key role in their education.
Li Chengyuan, an 11-year-old student from Zizhong Primary School, says that artists from the NCPA have been coming to his school to offer art classes once a month and he also visits the venue to watch shows every month.
He has become a member of the NCPA's student drama troupe since he was 7 years old and made his debut performance at NCPA last year, acting in one of the roles in the drama Wangfujing.
"I asked my best friend to come with me in the beginning because I wasn't brave enough to speak in front of so many people," says Li. "Now I am much more confident performing onstage."
Jiao Miao, a conductor with the NCPA Chorus who graduated from the China Conservatory of Music, says: "Art programs teach students to have better links between the knowledge they learn from textbooks and the actual experience of performing onstage."
(Source: China Daily)