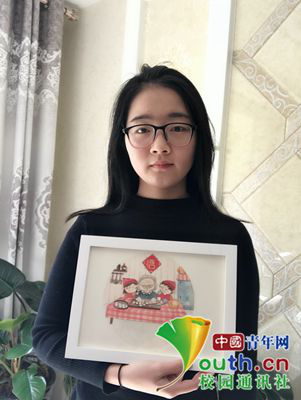 Cai Silei presents her drawings on the theme of Spring Festival celebrations. [ Courtesy of Cai Silei]
A series of cartoons in connection with the celebrations around Spring Festival, also known as Chinese Lunar New Year, have gone viral on the internet over the past weeks.
The cartoonist, Cai Silei, is a college student in her third year at China University of Mining and Technology in the city of Xuzhou, east China's Jiangsu Province.
Cai explained that she intended to relive the beautiful memories related to the celebrations in her childhood, since the festival is a grand occasion for millions of Chinese people from across the world to reunite with their family members.
The nine illustrations present scenes including the pasting of Spring Festival couplets, people lighting firecrackers and making dumplings or Jiaozi, along with many other vivid depictions.
Cai's drawings have become a hit when they were posted by her school on its official social media account and was later reposted by Jiangsu Department of Education.
Cai said that drawing has become part of her daily life and added that she would work hard to produce more high-quality works in the future.
The series of cartoons by Cai Silei [Courtesy of Cai Silei]
(Source: youth.cn/Translated and edited by Women of China)