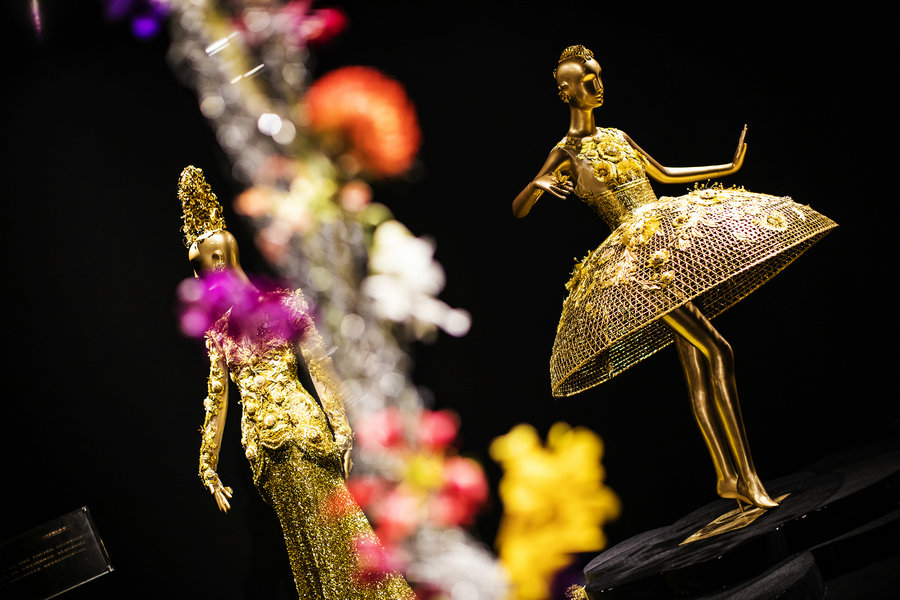 Chinese designer Guo Pei's "Elysium" series displayed during the settlement ceremony of the ACF in Beijing, June 2, 2018. [China Daily]
In a dark hall, a series of exquisite dresses shine with sparkling embroideries and golden colors.
They are all from well-known Chinese designer Guo Pei, who brought her "Elysium" series to celebrate the settlement of the Asian Couture Federation (ACF) in Miyun district in Beijing on June 2.
"I was inspired by traditional Chinese paper flower and designed this dress," Guo said at the exhibition, showing a navy colored dress decorated with small blue beads.
As an ACF member who has become famous on the international stage, Guo also cares about the development of China's haute couture.
The settlement of ACF in China may fulfill the designer's hope in the future.
Cross-culture Talk, More Opportunities
"Guo Pei's 'Elysium' series is the very demonstration of beautiful Chinese art. I am very delighted to get the support from Chinese government to the ACF. Our settlement in China is a milestone in the history of the federation," ACF founding president Frank Cintamani addressed the settlement ceremony.
He said China has a long history in the field of art. For thousands of years, Chinese people have provided a great contribution to the international art development through their polished craftsmanship and creativeness.
According to him, the settlement of the ACF in China will boost a series of cooperative projects. The cooperation will also help to bring up more Chinese haute couture designers.
Emily Hwang, ACF vice-president, said the federation has rich experiences in the cooperation with their global partners and other fashion communities. The communication of ACF member designers is a cross-culture talk, which have created more opportunities.
Rise of Chinese Fashion
As 2018 marks the 40th year of China's reform and opening-up, China's fashion industry has seen a great rise in the past four decades.
Apart from high fashion, or haute couture, more young Chinese designers have creative works that combine traditional culture and modern art, including Angel Chen, Chen Peng and Zhang Huishan.
They and their works appear more often on the international runway, about 45 Chinese designers have shown their works in the four major fashion weeks.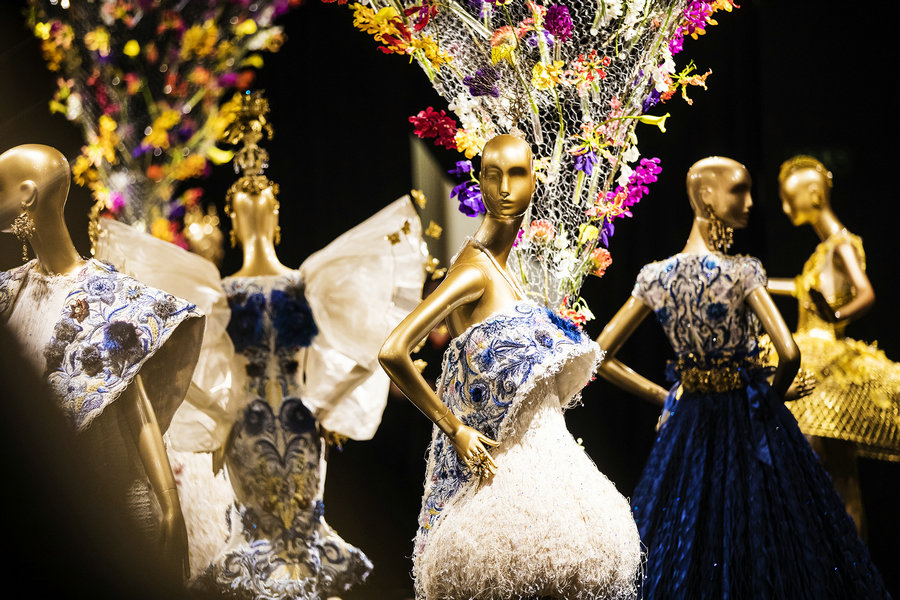 Chinese designer Guo Pei's "Elysium" series displayed during the settlement ceremony of the ACF in Beijing, June 2, 2018. [China Daily]
Chinese designer Guo Pei's "Elysium" series displayed during the settlement ceremony of the ACF in Beijing, June 2, 2018. [China Daily]
(Source: China Daily)