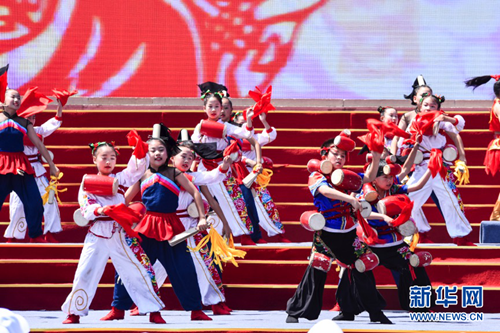 A drum show is staged during the opening ceremony of the 2018 Yaodu Culture and Tourism Festival, June 9. [Xinhua]
A week-long culture and tourism festival opened in Yaodu district, Linfen city, on June 10.
The festival, part of preliminary events for the coming Shanxi Tourism Development Conference being held in the city in September, aims to promote local culture and tourism and the city's profile as a cradle of Chinese civilization.
The festival will consist of 10 themed events such as a cultural summit, a promotion meeting for around 100 travel agencies and an exhibition of archeological finds from a Taosi relics site. During the event, the city will also try to attract investors to the area to boost the local economy.
Performers blow suona, a double-reed Chinese horn, at the opening ceremony, June 9. [Shanxi Daily]
A week-long culture and tourism festival opens in Yaodu district, Linfen city, on June 10. More than 2,500 people attended the opening ceremony. [Xinhua]
(Source: China Daily)