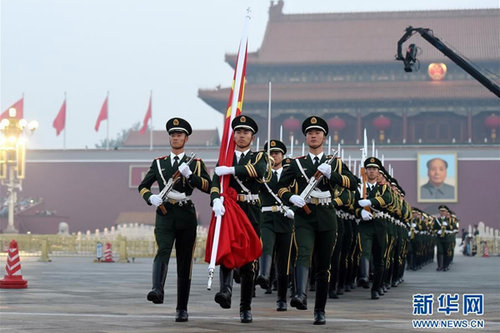 Tian'anmen Rostrum [Xinhua]
The iconic Tian'anmen Rostrum in downtown Beijing will be closed from Friday through next April for renovation, Beijing Daily reported on Tuesday.
The regular renovation has been approved by the State Administration of Cultural Heritage.
This year's restoration will focus on waterproofing, replacement of pipelines or equipment that have exhausted service life, maintenance work for cultural relics and necessary painting repairs.
Tian'anmen was first built in 1417, named Chengtianmen (Gate of Heavenly Succession) and was renamed as Tian'anmen after a renovation in 1651. In 1970, Tian'anmen was rebuilt with strong seismic resistance work.
Over past decades, Tian'anmen, an important venue for state ceremonies, received repairs on parts of the buildings and annual maintenance. It has attracted millions of visitors since it opened to the public in the 1980s.
From 2013 to 2014, a professional team fully checked the Tian'anmen Rostrum and pointed out it was in a generally safe condition, but there were problems such as water seepage, cracking of paint and aging in some facilities.
This year's renovation project, which focuses on the above issues, is expected to be completed by the end of next May. And the Tian'anmen Rostrum will be reopened to the public at the end of next April.
The project is a part of routine protective renovation and will adhere to the principles of preserving cultural relics without changing their condition and minimum intervention.
(Source: China Daily)