Chinese and American artists involved in the music drama Legend of Silk Road Hua Mulan [China Daily]
The launch of a China-US theatrical group to perform the creative national music drama Legend of Silk Road Hua Mulan was announced in Xi'an, Shaanxi province, on June 20.
Hua Mulan was a heroine in ancient China who dressed as a man to take her father's place in the army.
Tom Bower, a biography director, producer and actor from the US, said the musical drama, which demonstrates the unique oriental culture, will be staged by the end of 2018.
According to the chairwoman of the Xi'an Performing Arts Group, Kou Yaling, the play is both a challenge and an opportunity for the group.
They plan to use diversified art works to relive the real Chinese history and offer typical Chinese music.
Xi'an was the starting point of the ancient Silk Road and has become an important economic zone in the modern equivalent, the Belt and Road. Its local government is keen to cooperate with countries and regions involved in the B & R Initiative and with others around the world.
Kou stressed that the depiction of Hua Mulan by both Chinese and American performers will contribute to the promotion of Chinese culture and the country's cultural ideology.
It will also become an international cultural brand of China.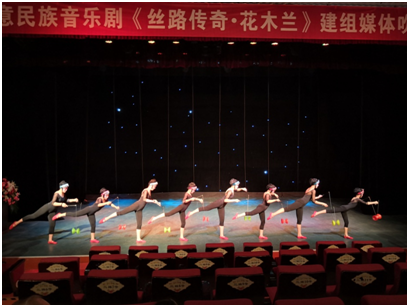 A rehearsal for the drama [China Daily]
(Source: China Daily)