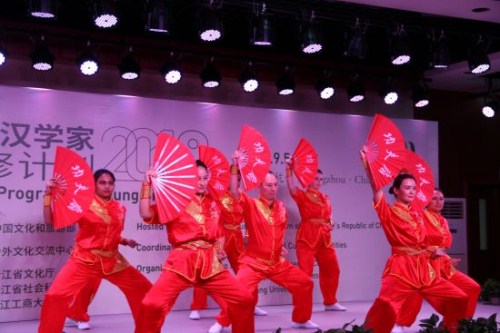 Sinologists perform a fan dance at the closing ceremony of the 2018 Visiting Program for Young Sinologists (Hangzhou) in Zhejiang Gongshang University on Sept 24. [zjsu.edu.cn]
Twenty-eight scholars from 21 countries all over the world explored Chinese culture in Hangzhou, Zhejiang province for the 2018 Visiting Program for Young Sinologists (VPYS) that concluded in Zhejiang Gongshang University on Sept 24.
During the three-week program, the sinologists conducted a field trip to several attractions, including West Lake, Hangzhou International Expo Center, the main venue of the G20 summit, and the headquarters of China's e-commerce giant Alibaba Group as part of a cultural experience.
They also gained a deeper understanding of Zhejiang province, and China as a whole, by delving into the history and development course of the country during the past 40 years since China launched its reform and opening-up policies.
Speaking at the closing ceremony, an Indian sinologist on the trip said that she will bring home the knowledge and experience she learnt in China and help her people to understand the country more deeply.
"The program serves as a bridge of friendship and cooperation between China and countries all over the world", said one of the professors, adding that the closure of the program is not the end of the research work, but rather the beginning of the cooperation.
After returning home, the young sinologists will continue to keep in touch with Chinese supervisors on academic research and paper writing.
The program, started by the China Ministry of Culture and the Chinese Academy of Social Sciences in 2014, aims to strengthen cultural exchanges and set up a platform for young sinologists worldwide to communicate and learn more about Chinese culture and history.
Having been successfully held for 14 sessions, VPYS has developed 413 young sinologists from 93 countries.
(Source: China Daily)