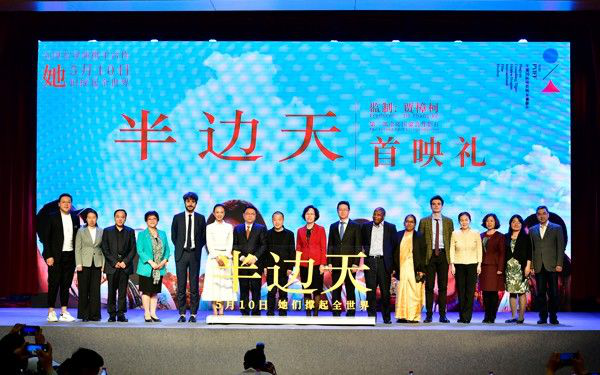 Premiere of Half the Sky at the China National Museum of Women and Children in Beijing on May 7 [Women of China/Fan Wenjun]
The premiere of the film Half the Sky, co-produced by female directors from Brazil, Russia, India, China, and South Africa (the BRICS countries), was held at the China National Museum of Women and Children on May 7 in Beijing. The film is to be screened nationwide on May 10.
The Ministry of Foreign Affairs and the China Film Administration initiated the Cooperation Program of Directors from BRICS countries in 2017. Directors from BRICS countries jointly filmed the first collection entitled Where Has the Time Gone?
Based on the great success of the first film, the female directors from the BRICS countries explored the dreams, struggles and predicaments of women through five stories from women's perspectives, in the new anthology Half the Sky.
The guests who were invited to the premiere ceremony spoke highly of the film. Wu Haiying, Vice-President and Member of the Secretariat of the All-China Women's Federation (ACWF), said that women have created material and spiritual civilization and played a unique role in China's revitalization.
The love for family members, tenacity, and sense of responsibility of women were fully demonstrated in the film, which also convinced us that women were the most active practitioners and promoters of the BRICS spirit — openness, inclusiveness and win-win cooperation, Wu added.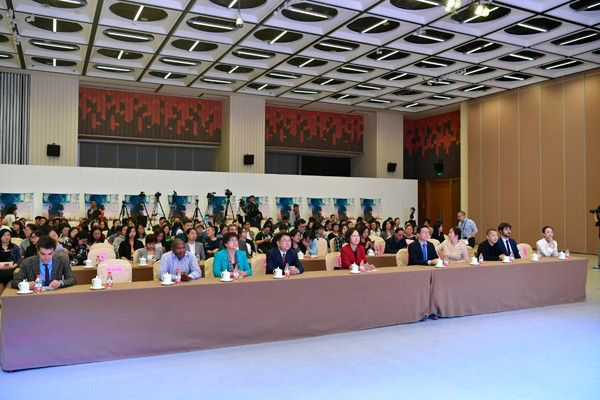 The film wins a round of applause among guests attending the premiere ceremony. [Women of China/Fan Wenjun]
Half the Sky originates from Mao Zedong's famous aphorism, "Women hold up half the sky."
The movie offering at the event consisted of five filmlets — The Dumpling, Homecoming, Online Lovers, Mother's Holidays and Suspicion on Gender, which explore constraints of traditional thoughts and family roles on women in the New Era.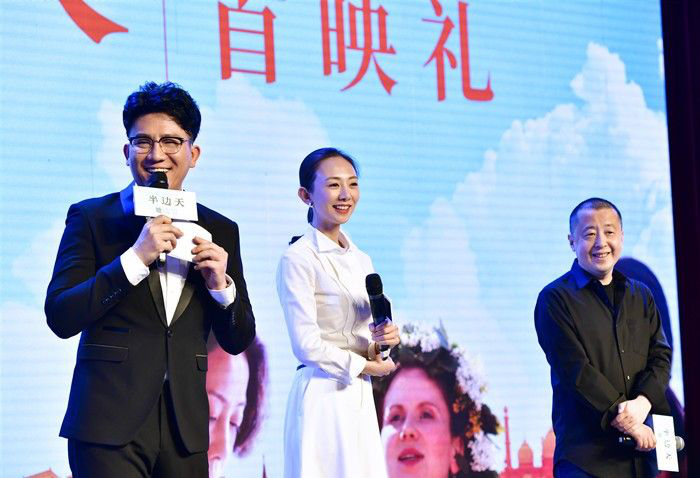 Liu Yulin (C), director of the filmlet
The Dumpling
and Jia Zhangke (R), executive producer of the film, interact with the audience on stage at the premiere. [Women of China/Fan Wenjun]
It is worth mentioning that Liu Yulin, director of The Dumpling, is a new-generation director of China. Liu's 18-minute movie is about an estranged relationship between mother and daughter using the traditional Chinese food as the clue.
"Dumpling symbolizes family reunion during the Spring Festival," Liu said, added that she integrated some Chinese cultural elements in the film, including the living environment of the protagonist, the decorations and the background music, so audiences from around the world could know the real lives of Chinese people.
Jia Zhangke, Chinese director, international film awards laureate and executive producer of the film, noted, "The topic of women is of great concern for the BRICS countries and the entire human race. Stories about women, directed by female directors, are creative and dynamic. I should say they (female directors) hold up half of the sky of the film industry."
Official poster of
Half the Sky
; [For Women of China]