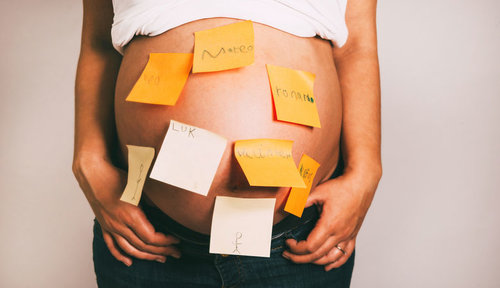 File photo show pregnant belly with baby names [Thinkstock]
A teenager from Gloucestershire has earned nearly 50,000 pounds from a website that she started to help name Chinese babies.
According to BBC Newsbeat, Beau Jessup was on a family trip to the country, when she was asked to help provide an 'English' name for a baby.
Beau, aged 16, realised that many parents in China like to give their children an unofficial name in another language alongside their Chinese name.
However, the BBC reports, she'd heard of some unorthodox choices, such as 'Gandalf' and Rolex' - and realised that she could help.
She set-up Special Name - a website that matches personality traits against names, and charges a small fee for each suggestion.
So far, the website has named 200,000 babies - suggesting that there is indeed a popularity of English names in China.
But why is that the case? The discussion site Quora has several suggestions in answer to this question.
The most compelling of those seems to be that, with a growing number of Chinese studying the English language, it's convenient and even 'cool' for them to have an English name that they can use in lessons.
Many users of Quora also commented that, culturally, the phenomenon can work in both directions - giving examples of the popularity of Chinese names and characters in Western body art, for example.
(Source: CRIENGLISH.com)