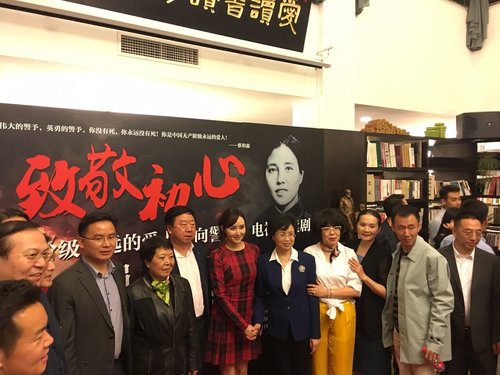 ACWF Vice President Song Xiuyan (R5) and a crew member of the series [Women Voice]
A senior official from the All-China Women's Federation (ACWF) attended a launch ceremony on April 17 in Beijing for the shooting of a 30-episode TV biopic on female revolutionary Xiang Jingyu.
The ceremony was held at the offices of Dayou Book Company in the Party School of the Central Committee of the Communist Party of China (CPC).
Song Xiuyan, vice-president and first member of the Secretariat of the ACWF; He Yiting, executive vice-president of the school; and a descendant of Xiang gave speeches at the event.
Song noted that Xiang devoted her "short but glorious" life to the Chinese people's liberation and was a "faithful communist warrior".
"She was also a pioneer and leader of Chinese women's movement and the first minister of women. She played an irreplaceable part in history," Song said.
In 2015 the ACWF named Xiang's former residence a National Patriotic Education Base for Chinese Women in memory of her great achievements and contribution to Chinese revolution and women's emancipation.
Song introduced ACWF's participation in making the series.
She hoped the program would represent the female martyr's spirit and heroic life, inspire citizens to remember history, tie their own destiny to those of the Party and the country, and contribute their own efforts to the "Chinese Dream" of the great rejuvenation of the nation.
"The series will present a hero with resolute revolutionary will. We're eager to see its makers throw themselves into the creation with great enthusiasm and political responsibilities, tell stories of outstanding Chinese women and the Chinese revolution well and realize the perfect integration of history and aesthetics," added Song.
"The ACWF are going to pay great attention to, and actively take part in and vigorously support the series' shooting. Meanwhile, we'll enhance its publicity and promotion to let it move, inspire and encourage more women."
Adapted from a biography of the same name, the series, Xiang Jingyu, dramatizes the life of the only female founder of the CPC. In her time, she also promoted the combining of women's schools and men's schools, leading women's movement and fighting against the nation's White Terror.
Hu Jing, a noted actress who starred in the latest hit TV show In the Name of People, featuring national anti-corruption campaigns, will play the lead role. Hu and other main crew members also attended the ceremony.
Liu Yiran, winner of famous TV prizes such as the Flying Goddess Award, the Golden Eagle Award and the Golden Star Award, will work as the series' director and screenwriter.
Shooting will be carried out by Central Party School Press's Film and TV Center, Central Studio of News Reels Production, ACWF's Publicity Department and CPC Hunan Provincial Committee's Publicity Department and is invested by organizations like Huarui TV and Film Company.
A poster of the launch [Women Voice]
A glimpse of Xiang's former residence [Women Voice]
Xiang's statue [Women Voice]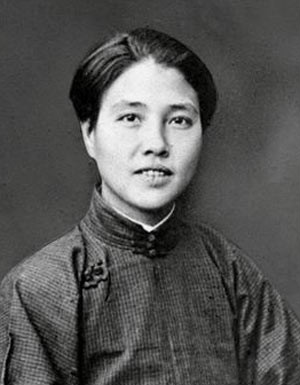 Xiang Jingyu [Women Voice]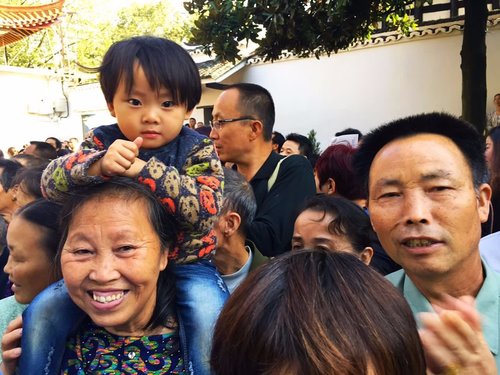 Local residents in Xiang's hometown [Women Voice]