Officials of the ACWF and organizers of the event as well as family representatives turn on lights to launch the ceremony. [Women of China/Zhang Jiamin]
The All-China Women's Federation (ACWF) and the State Administration of Press Publication, Radio, Film and Television (SAPPRFT) jointly launched a national parent-child reading campaign on April 21 in Beijing.
The aim of the event is to cultivate good family traditions and inspire a passion for reading among youth nationwide.
The event was attended by Song Xiuyan, vice-president and first member of the Secretariat of the ACWF; Zhou Huilin, deputy-director of the SAPPRFT; and, Deng Li, vice-president and member of the Secretariat of the ACWF, among others.
During the launch, a short video was shown to summarize ACWF's efforts made in 2016 to promote last year's campaign.
Accordingly, around 210 books recommended for parents and children were also displayed at the ceremony. Parent-child reading activities will be held later this year.
Meanwhile, several family representatives were presented with honorary certificates for their positive role in participating in the scheme. These representatives included Qi Xiangyuan from east China's Jiangsu Province; Yu Yueyang from Shanghai; and, Li Tianyi from Jinan, capital of east China's Shandong Province.
In an interview, Song pointed out the important role of parents in shouldering their responsibilities of leading their children to foster a habit of reading.
At the same time, Song said the ACWF and SAPPRFT will contribute continuous efforts to carry forward the campaign nationwide so as to implement Chinese President Xi Jinping's latest remarks on stressing family education and virtues.
This year, more endeavors will be undertaken to make the best of public cultural resources and mobilize people from all segments of society to carry out various activities to meet needs of reading for different families, especially for those disadvantaged households, Song maintained.
Two newly-appointed ambassadors to promote the campaign, Chen Geng and Xu Ying, along with the family representatives, sent out a call for more parents to accompany their children to read and gain happiness from sharing in the activity.
Chen, a doctoral candidate of Peking University, said reading can not only help a child grow up better but also let parents find a place to keep their hearts calm in the "busy city life".
"For a young child, she or he has little recognition of the world. If parents can guide them to know the world through reading, I believe it is quite a good way to help their growth."
Xu, a researcher and PhD adviser from the Academy of Opto-Electronics of the Chinese Academy of Science (CAS), expressed her feeling about parent-child reading.
"I was fond of reading when I was a child. This is to say my initial understanding of the world came from books. Now I have a 4-year-old daughter. Sometimes I tell some traditional Chinese fables to her and teach her to read Children's Illustrated Encyclopedia."
Xu believes that reading is a particularly good thing for it can broaden people's horizons.
Furthermore, Li Bo, professor from Nanjing Normal University and an ambassador for promoting the campaign, shared his comprehension after reading a book titled Three Levels of Reading at the event.
At the event, several children also expressed their ideas about reading.
"I am truly a book lover. No matter how busy my parents are, they will put aside their work to accompany me to read when I need them to. It is the happiest thing for me to read together with them," said Zhang Yingyue, 8.
Chen Qianmo, a 10-year-old from Wumalu Primary School in north China's Tianjin Municipality, said she was happy and excited to see some children who have a common interest in reading like her at the event.
The event inspired her to read more books to enrich herself, Chen added.
Chen's mother remarked she did not let her child attend various early education classes, as she thinks it is more important to encourage her child to read than to attend such classes.
It is hoped that the campaign can motivate more families to take part in parent-child reading, Chen's mother stated.
Song Xiuyan, vice-president and first member of the Secretariat of the ACWF, speaks at the ceremony. [Women of China/Zhang Jiamin]
A host interviews a participant. [Women of China/Zhang Jiamin]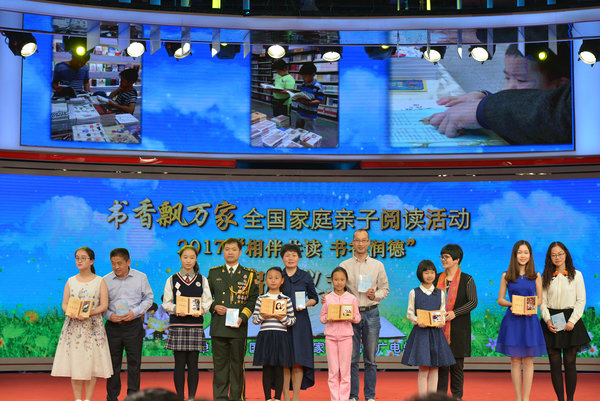 Several family representatives are presented with honorary certificates. [Women of China/Zhang Jiamin]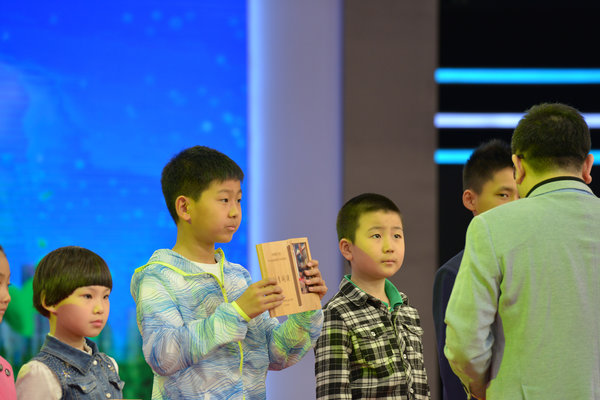 A boy shows off a certificate. [Women of China/Zhang Jiamin]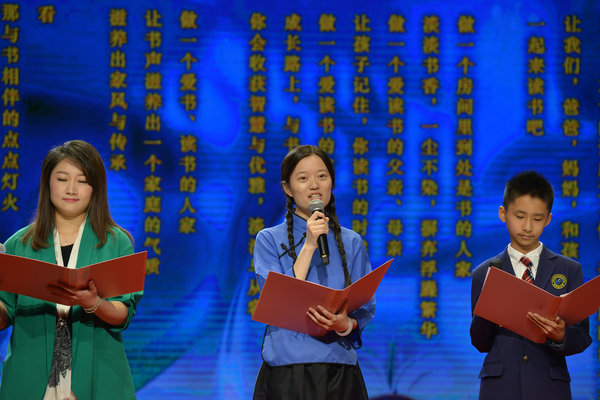 Chen Geng (C), a doctoral candidate of Peking University and two participants at the event.[Women of China/Zhang Jiamin]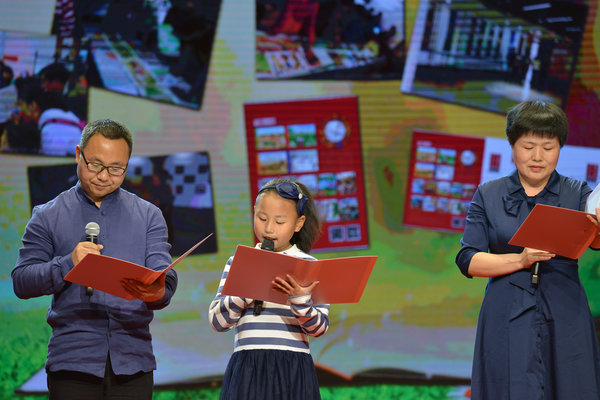 A girl and her parents read an initiative to promote a parent-child reading campaign. [Women of China/Zhang Jiamin]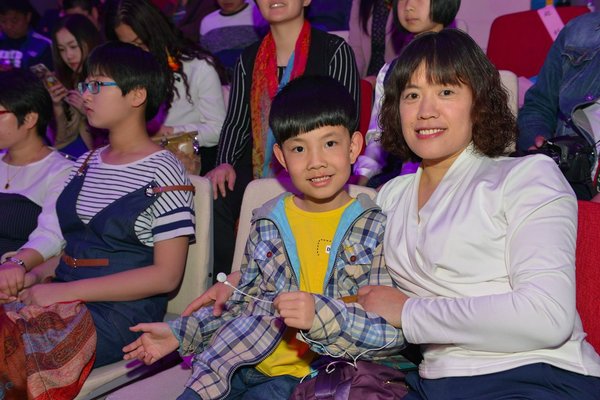 Zhang Yingyue, 8, and his mother [Women of China/Zhang Jiamin]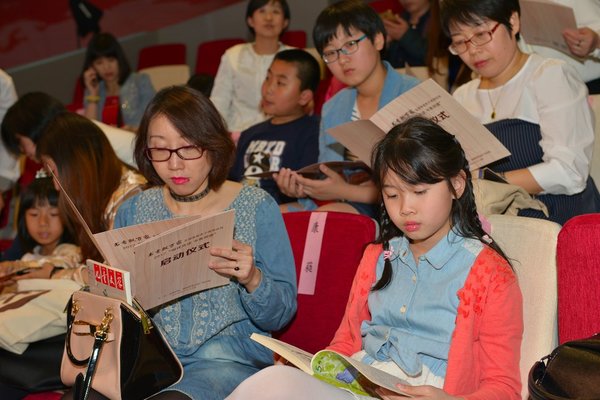 A 10-year-old girl Chen Qianmo and her mom [Women of China/Zhang Jiamin]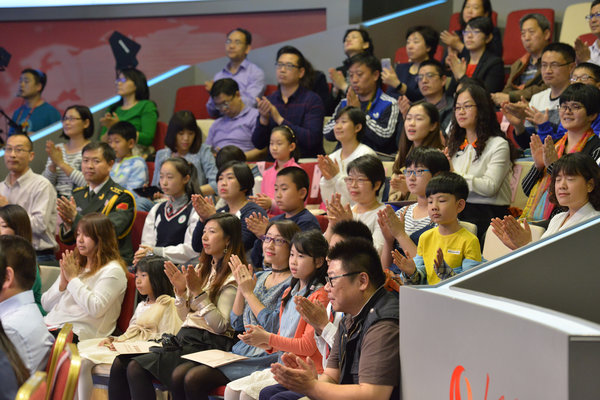 Attendees applause at the event. [Women of China/Zhang Jiamin]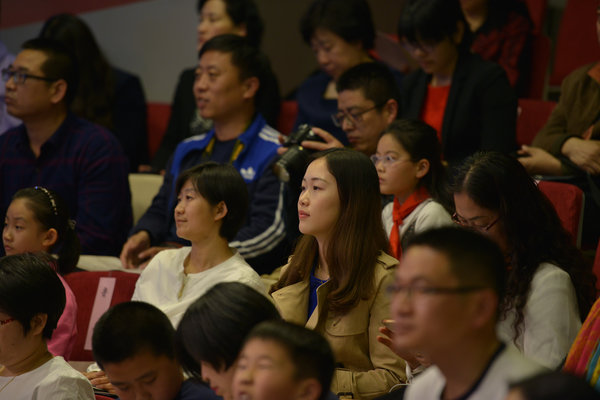 Attendees at the event. [Women of China/Zhang Jiamin]