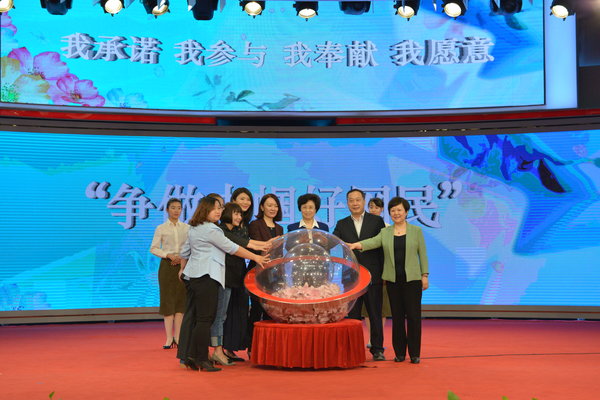 Attendees launch the ceremony. [Women of China/Zhang Jiamin]
The All-China Women's Federation (ACWF) and the Office of the Central Leading Group for Cyberspace Affairs of the Cyberspace Administration of China (CAC) jointly launched a campaign on May 5 calling on women nationwide to be "good netizens".
The launch, which was live-steamed on social media, attracted more than 4.5 million viewers from different parts of the country, according to the official statistics.
The event was attended by Song Xiuyan, vice-president and first member of the Secretariat of the ACWF; Tan Lin, vice-president and member of the Secretariat of the ACWF; and, Ren Xianliang, deputy director of the CAC.
Meanwhile, Lu Xinning, deputy editor-in-chief of People's Daily, the flagship newspaper of the Communist Party of China (CPC) and staff members from partner organizations as well as representatives of female netizens across Beijing participated in the activity.
During the event, two well-known internet celebrities, Su Qin and Shu Chang, shared their stories about how to use a positive voice online to spread good values and a progressive spirit.
Specifically, Su has taught many women to appropriately manage their emotions online. She has played an active role in fighting against negative voices, using her own unique method to "purify" online discussion.
Aside from this, Lu Qin, a famous family education expert and young mother, along with a panel of Beijing-based volunteers, also shared their feelings and thoughts on how to distinguish between various information online.
"A good female netizen not only cares for her own children but also shows concern for other youngsters. If someone finds improper news disseminated on the web, she should immediately make efforts to get rid of it," said Lu.
In addition, four female web users together read a proposal released by the ACWF, calling upon women nationwide to strive to be civilized netizens.
To support the campaign, the ACWF has held a series of open classes on making women's voices heard on the internet in a rational way, which will be released simultaneously on Women Voice, its official publicity platform as well as other women-related learning tools.
Yu Dan, vice-president of Beijing Normal University known for her expertise in traditional Chinese literature, delivered the first open lecture on the theme of "E-time Women's Wisdom" at the ceremony.
Song's Remarks
Song urged the large number of women nationwide to positively take part in the campaign, try to cultivate an awareness of network security and develop self-improvement while acting in accordance with the law.
Furthermore, Song noted that women from the general population are expected to be actively involved in other relevant activities to spread inspiring news of the upcoming 19th National Congress of the CPC.
Song pointed out that women should play a unique role in their households, leading family members to obey the law, and browse the internet in a civilized and rational manner.
Women's federations at all levels are required to carry out the campaign relying on around 6,700 new media platforms in local regions across the nation to fully mobile the enthusiasm of women's participation.
Deputy Director of the CAC Ren Xianliang's Speech
Women have played a special and important role in the construction of the "network ecosystem" at present, Ren said.
The campaign is a significant measure for the ACWF to lead the large population of women to develop healthy online habits and jointly safeguard cyberspace security.
Ren urged Offices for Cyberspace Affairs at all levels, websites, internet enterprises and social organizations to strongly support the campaign, and make joint efforts to promote the successful implementation of various work.
Kindergarten Teacher Cui Hong
"As a kindergarten teacher, I hope that netizens can pay more attention to our dedication to children as the number of inspirational stories in this aspect online is too few," said Cui Hong.
Media Staff Zhu Hong
"A good internet user is someone who helps those around them resist news that does not accord with mainstream values, especially information that damages the interests of the country," stated Zhu Hong, a staff member in a media institution.
It is quite necessary to stop the spread of rumors, Zhu stated.
An IT Practitioner
"As a mother and IT worker, I hope my child and I can enjoy a safe and civilized internet environment. For this, I will contribute all my efforts."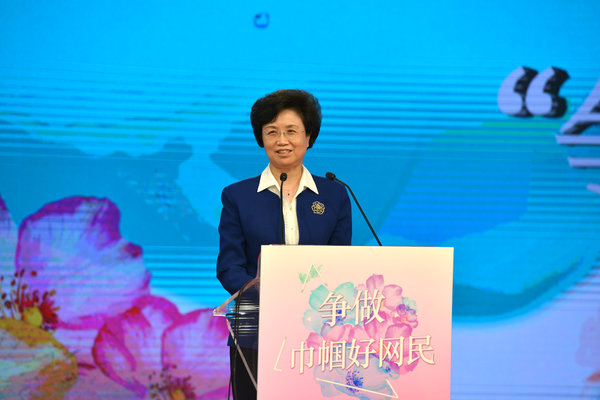 Song Xiuyan, vice-president and first member of the Secretariat of the ACWF, makes a speech at the event. [Women of China/Zhang Jiamin]
Ren Xianliang, deputy director of the CAC, speaks at the event. [Women of China/Zhang Jiamin]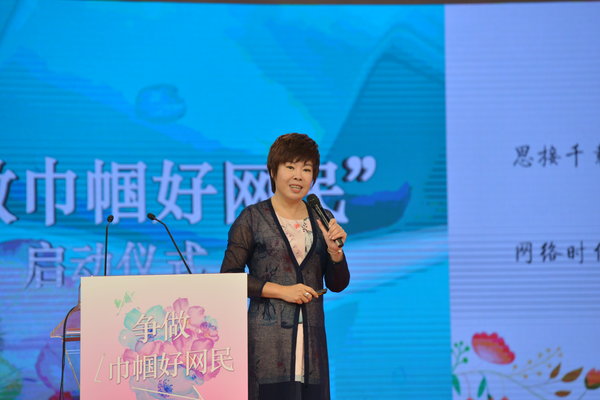 Yu Dan, vice-president of School of Art and Communication of Beijing Normal University, delivers a lecture. [Women of China/Zhang Jiamin]
Lu Qin, a famous family education expert, shares her thoughts. [Women of China/Zhang Jiamin]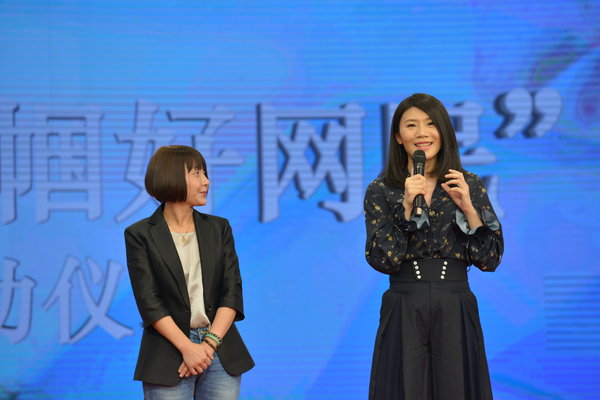 Su Qin (R), a well-known writer and an online celebrity, shares her story. [Women of China/Zhang Jiamin]
A participant speaks at the ceremony. [Women of China/Zhang Jiamin]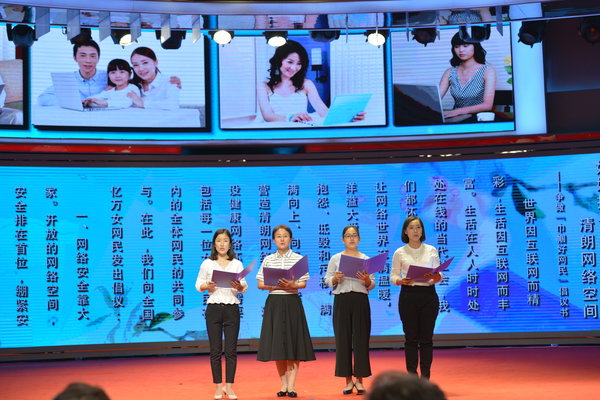 Four female internet users read a proposal. [Women of China/Zhang Jiamin]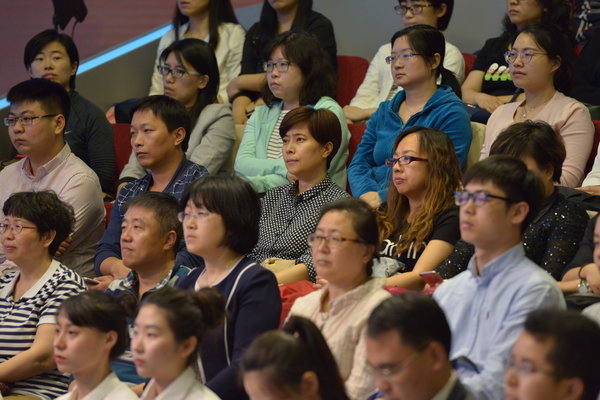 Participants listen carefully at the event. [Women of China/Zhang Jiamin]
Attendees applaud at the ceremony. [Women of China/Zhang Jiamin]