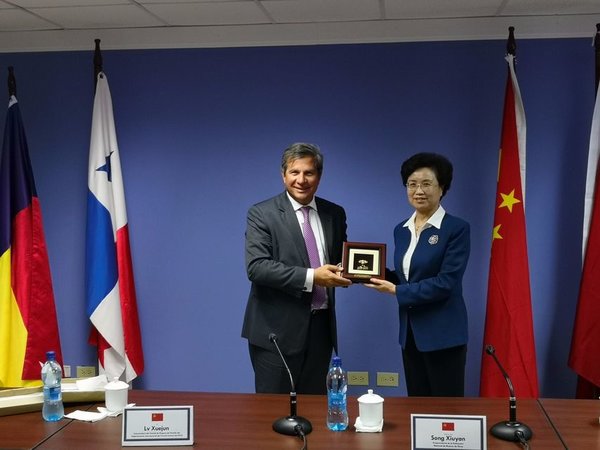 Song Xiuyan (R) meets President of the Panameñista Party, in Panama. [idcpc.org.cn]
At the invitation of the Panameñista Party, Song Xiuyan, Secretary of the Party Leadership Group of the All-China Women's Federation (ACWF), headed a delegation to Panama from December 11-13. Song, also Vice-President and First Member of the Secretariat of the ACWF, promoted the spirit of the 19th National Congress of the Communist Party of China (CPC) during her visit there.
Song attended and addressed a meeting to publicize the spirit of 19th National Congress of the CPC in Panama on December 12. Song gave an all-round introduction to the achievements in terms of politics, theory and practice made at the CPC Congress which was held in Beijing from October 18-24.
She highlighted Xi Jinping Thought on Socialism with Chinese Characteristics for a New Era along with its background, significance, status in history, and rich content.
As the main contributor to the Thought, Comrade Xi Jinping has incorporated new connotations and provided Chinese wisdom in solving problems facing human being and promoting global development, Song said.
Since China held the 18th CPC National Congress in 2012, the country has achieved progress and in the new era the principal contradiction facing Chinese society has changed, Song noted.
Other issues Song mentioned included the Chinese goal of building a modern socialist country through a two-step approach, CPC's exercising of full and rigorous governance over the Party, and the major-country diplomacy with Chinese characteristics, especially the thoughts and practices of building a community with a shared future for mankind.
Song also shared the spirit of the CPC in Dialogue with World Political Parties High-Level Meeting, which was held from November 30-December 3 in Beijing.
Over 260 people attended the session, including officials from the Panamanian government, parties; people from commerce and business sectors; professionals from universities, think tanks, media, women's organizations; and, representatives of overseas Chinese groups and enterprises.
Song also conveyed the spirit of the 19th CPC National Congress among staff at the Chinese Embassy in Panama.
During her visit, Song met Panamanian President Juan Carlos Varela. She also met President of the Panameñista Party, and the General Secretary of the Panameñista Party. She presented them the second volume of Xi Jinping: The Governance of China as gifts.
The Panamanian officials expressed the willingness to actively implement the agreement reached by the top leaders of the two countries and promote bilateral cooperation for the benefit of people in both countries.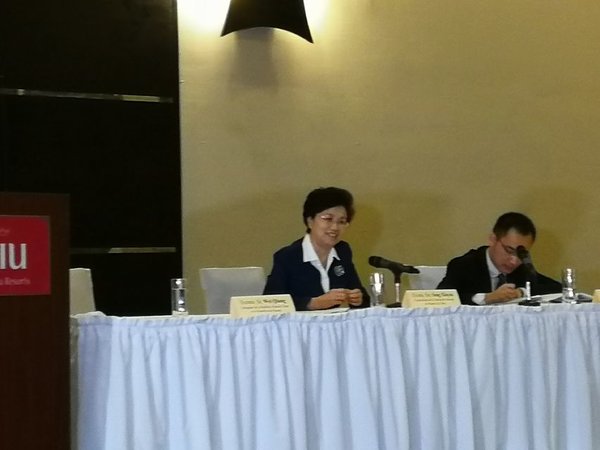 Song Xiuyan speaks during the meeting to promote the spirit of the 19th CPC National Congress. [idcpc.org.cn]
A participant raises a question during the meeting. [idcpc.org.cn]
(Source: idcpc.org.cn/Translated and edited by Women of China)