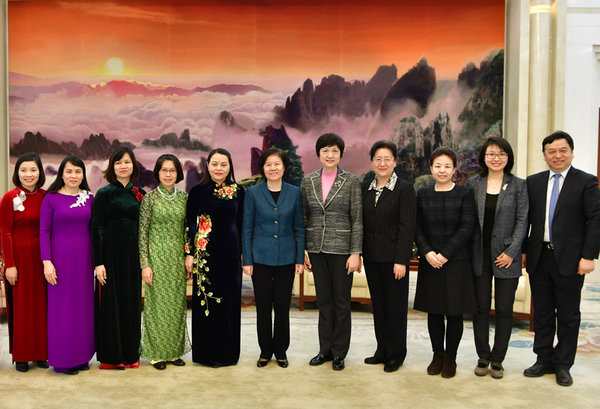 Shen Yueyue (L6) meets the Vietnamese women's delegation. [Women of China/Fan Wenjun]
Shen Yueyue, Vice-chairperson of the Standing Committee of the National People's Congress and President of the All-China Women's Federation (ACWF), met a women's delegation from Vietnam on December 21 in Beijing.
The delegation was headed by Nguyen Thi Thu Ha, Member of the Central Committee of the Communist Party of Vietnam, Deputy to Vietnam National Assembly, President of Vietnam Women's Union.
At the meeting, Shen briefed the delegation on the significance and achievements of the 19th National Congress of the Communist Party of China (CPC), which concluded in October.
Shen spoke highly of relations and women's exchanges between China and Vietnam, saying that China is willing to work together with Vietnam to implement the important consensus reached by leaders of the two countries and further promote China-Vietnam strategic partnership in an all-round way.
Shen hoped that women from the two countries will strengthen exchanges; jointly advance the construction of the Belt and Road Initiative; and make further contributions to the friendship between people from the two nations.
The delegation visited China at the invitation of the ACWF.
Deng Li, Vice-President and Member of the Secretariat of the ACWF, held a work meeting with the visitors on December 22.