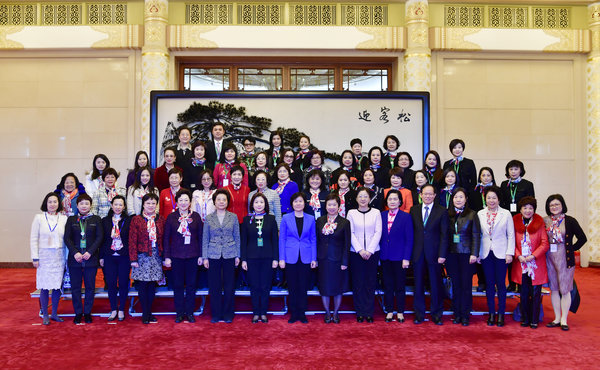 Officials from the ACWF and delegation members to the Executive Committee from south China's Hong Kong Special Administrative Region (SAR) and Macao SAR pose for a group photo. [Women of China/Fan Wenjun]
At the invitation of the All-China Women's Federation (ACWF), a 54-member delegation visited Beijing and Tianjin from December 3-7, 2017. The delegation was composed of executive committee members and invited delegates of ACWF who served at different levels of women's federations from the special administrative regions of Hong Kong and Macao. The visit helped deepen the delegates' understanding of the spirit of the 19th National Congress of the Communist Party of China (CPC), the development strategies of their home country in the "new era," and improved their learning about the progress of Chinese women's undertakings and about ACWF's reform.
Shen Yueyue, Vice-Chairperson of the Standing Committee of the National People's Congress and President of the ACWF, met the delegation in the Great Hall of the People, in Beijing, on December 4. Shen explained the spirit of the 19th CPC National Congress and outlined how the women's federation had learned, spread and implemented the spirit of the congress. She hoped the executive committee members and delegates from Hong Kong and Macao would "remain true to their original aspiration and keep their mission firmly in mind" and play their roles and work tirelessly to realize the Chinese Dream of national rejuvenation and fulfill people's longing for better lives.
In Beijing, the delegation visited an exhibition that featured China's outstanding achievements over the past five years, and an exhibition that showcased the planning of the sub-center of Beijing (in Tongzhou District). Xia Jie, Vice-President and Member of the Secretariat of the ACWF, communicated with the delegates. In Tianjin, the delegation visited Binhai New Area and they discussed with local women's federation's representatives their reform work.
(Women of China)