Song Xiuyan meets officials from Gabon. [Women of China / Fan Wenjun]
Song Xiuyan, vice-president and first member of the Secretariat of the All-China Women's Federation (ACWF), met with Gabon's Senate Speaker Lucie Milebou in Beijing on January 15.
Song praised the close relationship and frequent exchanges concerning women in China and Gabon. She said that China, together with Gabon, would like to implement the consensus reached by the two Heads of State; deepen bilateral cooperation in various fields including women's causes; and improve joint development to benefit people from both nations.
Song also introduced the major achievements of the 19th National Congress of the Communist Party of China (CPC), which took place in October, as well as achievements made by women in modern China.
Milebou spoke highly of the friendship between the two countries and the progress made by Chinese women. She hoped to strengthen dialogue and exchange among women and deepen traditional relationships and cooperation.
Milebou visited China at the invitation of Yu Zhengsheng, chairman of the National Committee of the Chinese People's Political Consultative Conference (CPPCC). Gabon's ambassador to China also participated in the meeting.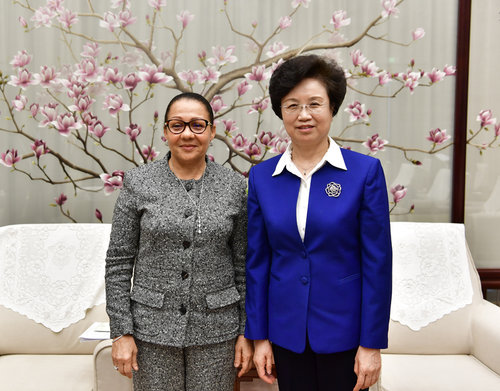 Song Xiuyan (R) and Lucie Milebou pose for a photo. [Women of China / Fan Wenjun]