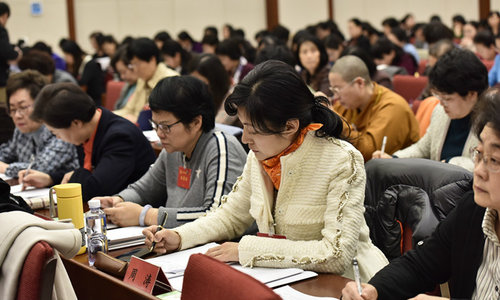 Attendees at an ACWF meeting held to better convey the spirit of the second plenary session of the 19th CPC Central Committee on January 22. [Women Voice]
The All-China Women's Federation (ACWF) held a meeting on January 22 to implement the recent keynote speech made by President Xi Jinping at the second plenary session of the 19th Central Committee of the Communist Party of China (CPC), and study the spirit of the session.
The meeting was chaired by Song Xiuyan, vice-president and first member of the Secretariat of the ACWF.
A proposal from the CPC Central Committee on revising the Constitution was adopted at the plenary session, which was held in Beijing from January 18-19.
Xi Jinping Thought on Socialism with Chinese Characteristics for a New Era, which was adopted at the 19th CPC National Congress in October last year, should be incorporated into the upcoming revision to the Constitution, according to a directive issued at the high-level gathering.
Song noted in her speech that the proposed amendment to the Constitution is an important event in China's political affairs and a crucial political decision made by the CPC Central Committee based on the overall situation and strategy of upholding and developing socialism with Chinese characteristics.
The proposed revision is also an important measure to advance law-based governance and modernize China's system and capacity for governance, since it makes a full demonstration of the high emphasis and resolute determination from the CPC Central Committee towards their work and the rule of law.
Moreover, Xi Jinping Thought is in close accordance with China's situation, the new requirements for the Party and the nation's development, as well as the new expectations from the people.
Its enshrinement into the Constitution will elevate the new achievements, experiences and requirements of the development of the Party and the nation since the 18th CPC National Congress, and provide a guarantee for the adherence and development of socialism with Chinese characteristics in a new era, the realization of "two centenary goals" and national rejuvenation, said Song.
She stressed that women's federations across the nation should resolutely safeguard Xi's core leadership in the CPC Central Committee and the Party; align themselves through both their thoughts and actions with his keynote speeches and relevant spirit; give high respect to the Constitution's authority; perform their daily work in the principle of the rule of law; and, contribute their efforts to the advancement of law-based governance and a law-based socialist country.
(Source: Women Voice/Translated and edited by Women of China)