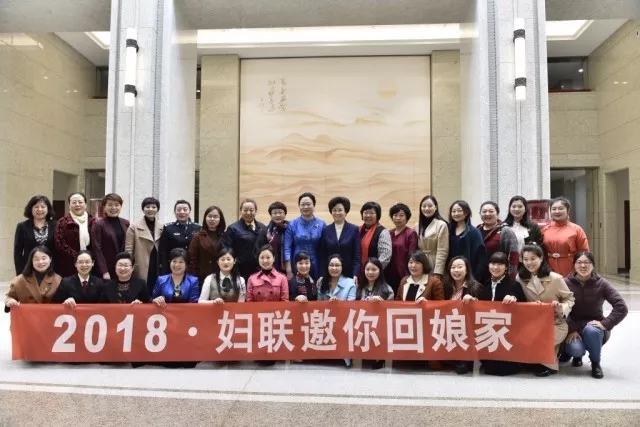 Song and around 30 female netizens pose for a group photo at the ACWF. [womenvoice]
Around 30 female netizens were invited to visit the office building of the All-China Women's Federation (ACWF) on the morning of March 7 to celebrate the upcoming International Women's Day.
Song Xiuyan, vice-president and first member of the Secretariat of the ACWF, met and shook hands with the guests.
"It is nice to meet you here to celebrate International Women's Day," Song said. "On behalf of ACWF, I would like to extend my festive greetings to you."
Later, some of the netizens shared their experiences and expressed their expectations for the ACWF.
Guo Xia, a farmer from Qiaozhuang Village, Lankao County, Central China's Henan Province, said she highly appreciated the functions performed by the federation.
"In Lankao, I believe nearly everyone has heard of the Employment and Start-up Base for Women as well as Qiaozhuang Fruits and Vegetables Planting Cooperative, both of which became operational with the help of the ACWF," she said.
"Now, workers of the two organizations have mastered useful technologies, enabling them to lead a better life."
Jin Xin, general manager of Jilin-headquartered Hankai Agricultural Development Co., thanked the ACWF, crediting her success to the organization's constant assistance.
Gao Wen, editor in chief of NetEase Media, hoped to promote the development of women's causes in China by internet technologies and look forward to starting cooperation."
Song expressed how she was deeply touched by the sincerity and enthusiasm of the guests.
"Functioning as a bridge and bond for exchange between the Party, the government and women, the ACWF earnestly implements the Party Central Committee's plans about women's causes and works to fulfill its duty of promoting women's development and protecting their legitimate rights and interests," Song said.
"The report of the 19th National Congress of the Communist Party of China (CPC) includes instructions on 'adhering to the basic State policy of gender equality and protecting the legitimate rights and interests of women and children', which fully embodies how the Party Central Committee, with Comrade Xi Jinping at its core, has attached great importance to the well-being of women and children," Song noted.
"In 2018, the ACWF will unswervingly adhere to the guidance of Xi Jinping Thought on Socialism with Chinese Characteristics for a New Era, focus on the theme of 'Following the Party's Leadership, Making Contributions in the New Era' and make efforts to usher in a new age for women's causes," Song added.
After the meeting, Song took a group photo and set up a WeChat group with the netizens.
(Source: womenvoice/Translated and edited by Women of China)