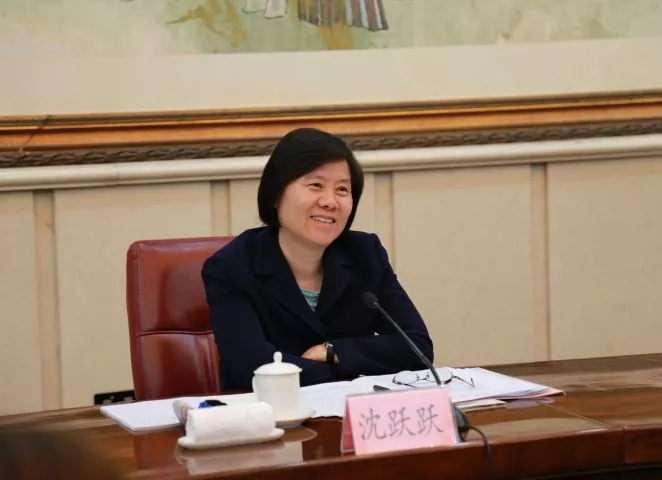 Shen Yueyue, president of the All-China Women's Federation, speaks at the event. [Women Voice]
Shen Yueyue, vice-chairperson of the standing committee of the National People's Congress (NPC) and president of the All-China Women's Federation (ACWF), addressed a discussion in east China's Shandong province on May 8.
At the gathering, Shen spoke to officials from local women's federations at all levels, and urged them to further promote women's federation reform in rural areas.
Zhang Hui, president of Shandong Women's Federation (SWF); Gao Shuzhen, part-time vice-president of SWF; Liu Qin, president of the women's federation in the city of Jinan; Liu Yueying, president of the women's federation in Lijin county and other officials of local women's federations, made their remarks respectively.
Shen spoke highly of Shandong Provincial Party Committee for attaching great importance to women and children's causes. Meanwhile, she also highly praised SWF for making bold innovations in promoting ACWF reform.
Shen pointed out that women's federations must deeply study and implement Xi Jinping Thought on Socialism with Chinese Characteristics for a New Era.
"We must continue to do a good job in learning and education, and unremittingly adhere to Xi's Thought, take it as a guideline in daily work and implement it comprehensively.
"We should also further establish 'Four Consciousnesses' and uphold the 'Four Confidences', as well as, consistently and resolutely safeguard the authority of the Central Party Committee with Xi as the core."
Shen added that it was necessary to continue to strengthen ideological guidance, carry out distinctive and down-to-earth learning and publicizing activities, to give full play to women's federation leaders and executive committee members, and fully present the advantages of groups such as the March 8th Red-Banner Pacesetters, family representatives, scholars and volunteers.
"Targeted activities should be held consistently to enhance the political identity, ideological recognition and emotional identification towards Xi's Thought."
Shen also called on the participants to popularize Xi's Thought among the public and unite women around the Party.
In addition, Shen emphasized that women's federations at all levels must carry out works, under the unified leadership of the Party committees, following the general requirements of building prosperous industries, eco-friendly environment, enlightened civilization, and effective governance, to promote the implementation of the Rural Revitalization campaign, and allow the majority of women play an active role in the revitalization of the countryside.
"In accordance with the requirements of developing high-quality agriculture, women's federations should carry out demonstration training for modern agriculture according to local conditions."
"We should also help rural women to develop characteristic planting, breeding and processing of high-quality agricultural products."
Moreover, Shen urged those present to train housekeepers, guide and encourage female college students, migrant workers and other groups to return and start businesses, and, cultivate more professional female farmers, leading them to play an important role in promoting the rejuvenation of rural industries.
"We must fully realize women's unique function in family life, pay attention to family education, strengthen the construction of family atmosphere, to guide women to advocate more scientific civilization, boycott feudal superstitions, and vigorously promote socialist core values and contribute to rural civilization."
"We must practice the concept of green living and guide rural women to jointly building the rejuvenation of rural ecology, and make full use of the unique role of women's federations in the modern rural social governance system."
Shen suggested that women's federations at all levels must always adhere to the party's leadership, closely focus on maintaining and enhancing political, advanced, and people-oriented nature, to make greater efforts and more practical measures to solidly advance the reform of the women's federation into in-depth development.
"We must strengthen and enliven the federations, effectively shift the power and service resources to the grassroots level, deepen the reform of the ACWF."
"To guide women in the new social class to exert positive energy and strengthen the guidance and motivation of social organizations, and connecting services to better serve people from the general population of women."
"Efforts should also be made to improve the ability of women officials to use the online work methods consciously, to further transform operating styles and deeply conduct in-depth research among women."
"We must actively undertake public service functions that are suitable for women's federations, and fully functioning the role of the bridge between government and women, effectively implement the requirements of the Party Central Committee on the work and the reform of women's federations."
(Source: Women Voice/Translated and edited by Women of China)