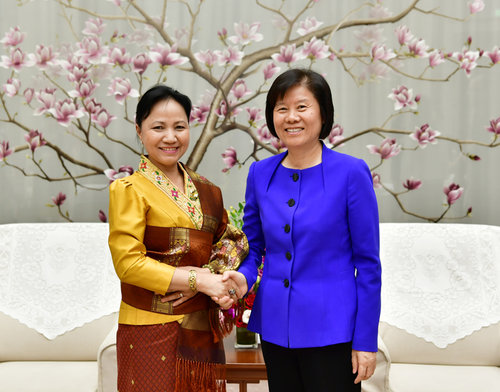 Shen Yueyue (R) meets with visiting Inlavanh Keobounphanh in Beijing on September 4. [Women of China/Fan Wenjun]
At the invitation of the All-China Women's Federation (ACWF), a nine-member Lao Women's Union delegation visited Beijing and Shanghai from September 3-7, 2018. The delegation was headed by Dr. Inlavanh Keobounphanh, Member of the Central Committee of the Lao People's Revolutionary Party and President of the Lao Women's Union. During their visits, the delegates learned about Chinese women's development and women's organizations' work.
Shen Yueyue, Vice-Chairperson of the Standing Committee of the National People's Congress and President of the ACWF, met Keobounphanh in Beijing on September 4.
Shen spoke of the bilateral relationship between China and Laos, and she talked about women's friendly exchanges between the countries. She noted China and Laos, both socialist countries, are friendly neighbors, and that China has attached great importance to the development of the bilateral relationship. China is willing to work with Laos in fulfilling the achievements reached during mutual visits paid by the heads of the two countries, developing the comprehensive strategic partnership of the two countries and building a China-Laos community with a shared future, which has its strategic significance.
Shen said she hoped women of the two countries would enhance friendly cooperation and make contributions to the strengthening of bilateral ties and the promotion of the progress of the Belt and Road Initiative. In addition, she outlined the efforts and achievements made by China, under the leadership of the Central Committee of the Communist Party of China, with Comrade Xi Jinping at its core, in advancing women's all-round development and gender equality.
Keobounphanh praised China for its achievements in economic and social development. She said she will continue working to promote the development of bilateral relations and deepen women's friendly communications.
Huang Xiaowei, Secretary of the Leading Party Group of the ACWF, held a meeting with the delegation on September 4. Representatives from both sides discussed the women's organizations' efforts in promoting gender equality and women's development in their countries. They also exchanged views on enhancing communications and cooperation in the future.
Xia Jie, Vice-President and Member of the Secretariat of the ACWF, and Vandy Bouthasavong, the Lao ambassador to China, attended the meetings in Beijing.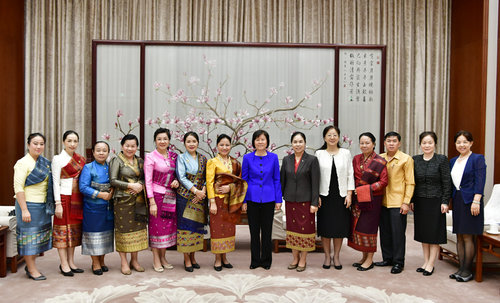 Officials from two sides at the meeting [Women of China/Fan Wenjun]